 Learn About Our Brooklyn Transfer High School
East Brooklyn Community High School combines a quality academic experience, individualized attention and intensive support services to promote academic success among young people who have fallen behind in credits needed to graduate. East Brooklyn Community High School (EBCHS), a partnership between the NYC Department of Education and SCO Family of Services, is committed to helping students earn their Regents diploma, pursue higher education and discover their leadership potential.
EBCHS is a Community School, a model that aims to make schools the hub of enriching, supportive, and inclusive activities that bring together children, teens, and adults from our diverse community.
SCO's Transfer High Schools offer a supportive and personalized learning environment for students not on target to graduate with their peers
We work with under-credited students who have not succeeded in traditional high schools, inspiring them to reengage in school and empowering them with an education that will prepare them for success in college, career, and life. Family and community engagement, internship opportunities through the Learn to Work program, and state-of-the-art technology tools are hallmarks of our innovative and successful Transfer High Schools.
Learn More
Why a Transfer School?
Small class sizes. Each class is limited to 20-25 students. Total enrollment is no more than 200.
Individualized relationships. Each student is paired with an Advocate Counselor who provides guidance and support as they develop and achieve employment and career goals.
Highly qualified staff. Our teachers are experienced in addressing individual learning needs and designing projects that are connected to students' interests.
EBCHS is a recently renovated, single-school site.
Who Can Benefit from this Program
Students 16 through 20 years of age who are under-credited and want to receive a high school diploma
Want to learn more? Complete the form below
East Brooklyn Community High School Students Reflect on Graduation Day
"They're your backbone, they help you and support you no matter what you do in life." Learn More
Tatiania
Bronx Arena High School
"When somebody comes to you and they just really want to learn it's like you know what? I know it. I'm going to teach you." Learn More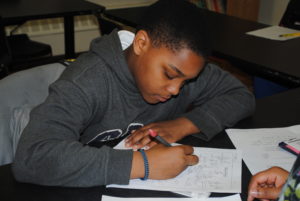 Children in our NYC shelters had a
96%
attendance rate at NYC DOE schools
93%
of adults with developmental disabilities living in SCO's IRAs (group homes) made meaningful connections by participating in community inclusion activities