 SCO News
September 25, 2023 / Madonna Heights News
Our Madonna Heights programs were proud to welcome the Stony Brook School of Dental Medicine to the campus recently. The visit was to educate adolescents and young mothers about the importance of dental hygiene. Led by Dr. Sherwin, Dr. Cronan, and Dr. Inzero, the workshop explained the proper techniques of…
Read More
---
September 22, 2023 / Independent Youth News
The Sigma Gamma Rho Sorority, Incorporated Nu Beta Sigma Alumnae Chapter helped our youth in foster care begin school on the right foot thanks to their Back to School Giveaway. One hundred forty children, youth and their families took part, joining Sigma members and SCO staff for games, activities, giveaways…
Read More
---
September 13, 2023 / SCO News
East Elmhurst, NY – SCO Family of Services and the Garden of Dreams Foundation hosted a special ribbon cutting to unveil the new garden at SCO's Jerome Hardeman Early Childhood Education Center in East Elmhurst, Queens. Students, teachers, and SCO staff were on hand as well as representatives from the…
Read More
---
August 2, 2023 / Independent Youth News
(Garden City, New York, August 2, 2023) – Today, the Board of Directors of SCO Family of Services, a leading provider of essential human services in New York, announced the appointment of Suzette Gordon as the new President and CEO. Ms. Gordon, who served as Interim President since December 2022,…
Read More
---
July 19, 2023 / Independent Youth News
We did it! SCO Family of Services has been officially reaccredited by The Council on Accreditation (COA), an international, independent human service accrediting organization that promotes best practice standards. In January, a team of eight COA reviewers interviewed hundreds of SCO staff, clients, leadership, and Board, reviewed thousands of pages…
Read More
---
June 29, 2023 / SCO News
Led by CARE, SCO's Committee Advocating Racial Equity, SCO staff participated in different Juneteenth activities throughout the month of June honoring the resilience of the Black community, SCO's employees, and the people and communities we serve. CARE Book Club Recommendation The CARE Book Club recommendation was a way…
Read More
---
June 29, 2023 / Independent Youth News
June is PRIDE Month and youth and staff throughout SCO Family of Services celebrated. 4th Annual Pride at the Heights On June 22nd, Madonna Heights held their "4th Annual PRIDE Event at the Heights." All programs on the Madonna Heights campus were invited as well as our Westbrook Preparatory…
Read More
---
June 20, 2023 / SCO News
Garden City, NY, June 15, 2023 – Central Business Systems honored SCO Family of Services with a special donation check presentation of $20,000 during an on-field ceremony prior to the Mets-Yankees game at Citi Field on June 14th. The presentation was part of Central Business Systems' 75th Anniversary celebration at…
Read More
---
June 14, 2023 / Independent Youth News
DIX HILLS, NY – SCO Family of Services held its 42nd Annual Madonna Heights Golf Classic at the Woodside Club in Muttontown, Long Island. This year's event raised $160,000 to support the vital work of Madonna Heights to teach, strengthen, and empower young and adult women to heal from trauma.
Read More
---
June 13, 2023 / SCO News
SCO's Fathers' Program held its first annual "Stronger Dads, Brighter Futures" event on May 23rd at the Billie Holiday Theater in Bedford-Stuyvesant, Brooklyn. Twenty-two fathers currently enrolled in the Fathers' Program were in attendance, many accompanied by their children. The event was an opportunity to present information, resources and support to…
Read More
---
May 23, 2023 / SCO News
Central Business Systems (Central), a longtime supporter of SCO Family of Services, will honor and present a $20,000 donation to SCO during a special on-field ceremony prior to the Mets-Yankees game at Citi Field on June 14th. The presentation will be part of Central's 75th Anniversary celebration at the game.
Read More
---
April 26, 2023 / SCO News
(New York, NY) SCO Family of Services, a leading provider of essential human services for more than 125 years, held a Speakeasy Soiree – "Unlocking potential for children and families" at the Mutual of America Building in New York City. Funds raised at the annual event will help SCO provide…
Read More
---
March 17, 2023 / Independent Youth News
Young people in Bedford-Stuyvesant looking for a fun, safe place to spend their Saturday evenings have a great option, SCO's Beacon at MS 35. The Beacon's Saturday Night Lights (SNL) program provides middle and high school girls and boys with a supervised, open gym every Saturday from 5-9PM. Saturday Night…
Read More
---
January 30, 2023 / SCO News
The Council on Accreditation (COA,) an international, independent human service accrediting organization that promotes best practice standards, just finished up their re-accreditation review of SCO. COA accreditation demonstrates that an organization follows the highest performance standards, ensuring clients are receiving the best possible care. A team of eight peer reviewers…
Read More
---
December 29, 2022 / SCO News
The annual event provides SCO's families and children with the chance to see a variety of cars and receive toys to start off the holidays. QUEENS, NEW YORK — The Astoria Car Club kicked off the holiday season earlier this month with its annual Astoria Car Club Toy Drive to…
Read More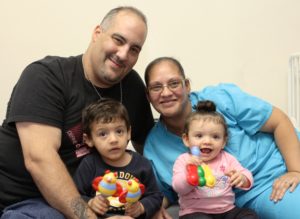 90%
of residents in our NYC shelters were successfully discharged to stable housing
95%
of women in our residential recovery program remained substance free