 2017 Family Dynamics Art Auction
Apr 19, 2017 / Lightbox, NYC
Family Dynamics' 7th Annual Benefit Art Auction & Reception Raises $100,000
for After School Arts Programs for Brooklyn Youth
More than 120 local art lovers gathered at the Lightbox in Manhattan on Wednesday, April 19, 2017 for the 7th Annual Family Dynamics Benefit Art Auction & Cocktail Reception to raise awareness and funds for Family Dynamics' after school art programs. The event raised more than $100,000 for the nonprofit, which serves children and families in Brooklyn's Bedford-Stuyvesant, Brownsville, Bushwick and East New York neighborhoods.
The evening's silent and live auctions featured artwork donated by 30 contemporary artists. Among the artists in attendance was Honorary Artist Chair, Robert Szot, whose piece, entitled "The Walking Phoenix, 2017," was part of the live auction. The evening included a paddle raise to help raise funds for Family Dynamics programs.
Other generously donated auction items included works by: Emily Berger, Peter Bogardus, Clayton Calvert, Parker Calvert, Davide Cantoni, Pietro Costa, Carson Fox, Brinda Gleissen, Joan Hall, Edyta Halon, Steve Huntley, Vieno James, A.E. Kieren, Rene Lynch, Nancy Manter, Jordan Matter, Jason McLean, Tatyana Murray, Angelo Musco, David King Reuben, Steven Rojas, Alexandra Rowley, Masha Rudenko, Anne Russinof, Erin Smith, Tim Steele, Ignacio Valdes, Lorna May Wadsworth, Darryl Westly and Youngsons.
Sponsors for the Family Dynamics Art Auction included Alexandra Alger, Mr. and Mrs. Fred Elghanayan, The Margolis Foundation, The Morrison & Foerster Foundation, Robair Reichenstein and Jin Lee, and Windels Marx Lane & Mittendorf LLP, and Media Partner, Modern Luxury Manhattan.
Children from Family Dynamics Beacon Community Center's Art Program in Bedford-Stuyvesant, Brooklyn, contributed their own work, Slot Car, which reflects the Beacon's newest initiative, the Racing to Success program, which teaches STEM skills through slot car racing.
In addition to Honorary Artist Chair Robert Szot, many contributing artists were also on hand for the proceedings, which were overseen by event co-chairs Grace Morgan and Helen Allen Smith, as well as Sotheby's-trained auctioneer Angelo Chan.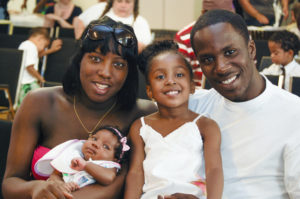 We provide
14,000
families and individuals with support services and community activities
88%
of young adults in foster care (18+) are enrolled in school or working