 CFL's 2020 Celebrating Community Event
May 13, 2020 / Dirty Precious Cocktail Bar - 317 3rd Avenue, Brooklyn
We're canceling our Annual Celebrating Community Event scheduled for May 13, 2020. Our event is about celebrating community, and the health, safety, and well-being of our staff and those we serve is our most important priority. 
If you were planning on buying a ticket, we still encourage you to make a donation to Center for Family Life, as we continue to navigate this quickly-changing situation and meet the emerging needs of our community.
Thank you for your ongoing support!
Honorees
Magda E. Nieves is currently the Bilingual Family Worker and Food Pantry Coordinator in the Center for Family Life's Community Services Program. Magda's journey began with an internship at the Community Services Program at CFL in 1982 with one of our founders, Sister Geraldine. In 1984, Magda joined the staff as an Advocacy Worker and Food Pantry Clerk. Magda has seen many changes within Sunset Park and CFL over her many years of service, but she has always believed in better days ahead for the Sunset Park community, where she grew up and has worked all her life. We have immense respect, admiration, love, and appreciation for Magda, who is retiring this year after 35 years of dedicated service to the Center for Family Life.
Lois Torres and Roxana Sosa are immigration paralegals (Navigators) for CFL's ActionNYC program, which provides free legal immigration services to the Sunset Park community. Lois and Roxana go above and beyond to provide our clients with both high-quality legal assistance and connections to a broad portfolio of supportive services to address all of their needs. Lois and Roxana's work is now more important than ever in protecting immigrant New Yorkers in the current immigration enforcement environment.
Recognizing
Representative Nydia Velazquez, who for decades has championed the rights of immigrants and advocated for the Sunset Park community. Currently serving in her fourteenth term as Representative for New York's 7th Congressional District, Congresswoman Velazquez was the first Puerto Rican woman elected to the U.S. House of Representatives.
For more information, please contact Siobhan O'Flaherty at soflaherty@sco.org/718-438-9500 ext. 207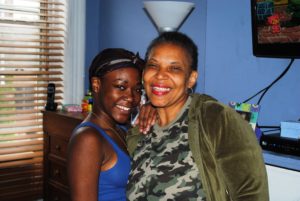 We help
1,300
children and young adults through foster care programs
100%
of eligible residents at our Madonna Heights Residential Treatment Facility participated in work, internship, or volunteer activities