 Westbrook Preparatory School
---
Our Success Stories
Sam's Story
Before coming to Westbrook Preparatory School, Sam, who has Asperger syndrome, was struggling academically and socially. At Westbrook, Sam has found acceptance, developed coping skills and is maturing into someone who is more in control of his actions and his future. See Sam's story.
Rachel's Story
Rachel struggled with crippling anxiety, which came to a head in 2012. She had always been a straight A student, however, her worsening social anxiety, general anxiety and panic attacks led to her eventual diagnosis – Rachel had Asperger syndrome. When she arrived at Westbrook, it was hard for Rachel to imagine becoming the college student she is today. "When I first got to Westbrook, I couldn't even say the word college without getting nauseous," she recalls.
Rachel enrolled in Westbrook in May 2012. She says, "Attending Westbrook was the first time I felt comfortable with other kids." Transferring from a school with 1,200 students to Westbrook, with a student body of 24, surely played a role in her transformation, but it was much more than that.
"My anxiety went down so much. The other students understood me because they were going through a lot of the same things. I also had a great therapist, Suzy. There was always someone I could talk to at Westbrook," says Rachel.
Rachel now attends Landmark College in Vermont. She has access to vocational, therapeutic and academic supports and she draws upon the coping techniques she learned at Westbrook whenever issues arise. Rachel is currently studying liberal arts and hopes to attend law school.
Ross' Story
Ross, a former student at SCO's Westbrook Preparatory School, is a motivated and engaging young man who has Asperger syndrome. "I'm actually different from many people with Asperger's in that I'm a very social guy," says Ross. "On the other hand, sometimes I am unaware of other people's feelings. I can be impulsive, and I do get overwhelmed. "
Ross had difficulty adapting at his previous public school due to these challenges. However, Westbrook's residential school setting gave Ross the opportunity to work on his social skills and develop strategies to help him avoid feeling overwhelmed.
One key element of life at Westbrook is the internship program. While students find comfort and build confidence living and learning with other teens who have similar challenges, they know that they need to prepare themselves to communicate and work well with all kinds of people. Ross's first internship was at Sports Authority, and he held another at St. Brigid's Elementary School Camp where he found talking with children about sports very rewarding.
His interest in sports led Ross to his next internship at WCWP 88.1 FM, the college radio station at CW Post. He ran the audio control sound board at sporting events, made guest appearances on a college sports talk show and researched sports information for use on air. He enjoyed his experience so much that he decided to study communications in college.
91%
of babies in our Nurse Family Partnership were current with immunizations at 24 months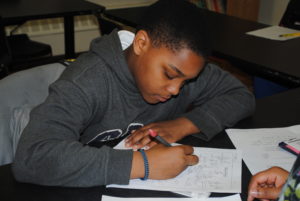 Children in our NYC shelters had a
96%
attendance rate at NYC DOE schools