 CFL Family Foster Care – Sunset Park
Our Family Foster Care program, which has gained wide recognition as a model for neighborhood-based, family-centered services in New York City and across the United States, provides training and case management for licensed foster families in Sunset Park.
By placing children with foster families in the community, the program seeks to reduce the trauma of separation from family members and to maximize opportunities for remediation and reunification in a normalizing neighborhood environment. Our program model is based on providing help to overcome barriers to effective parenting and supports to promote greater parental competency. Equally important is our focus on supporting meaningful community involvement in networks of friends and social services, with the goal of promoting ongoing family stability. Birth parents, foster parents, and children have access to services and resources at the Center and in the community both during and after the placement period.
Who Can Benefit from this Program
Parents with a child in foster care, foster parents, and children in foster care who live in Sunset Park, Brooklyn
How to Access this Program or Service
Contact the program at 718.438.9500
This program is associated with...
Our mission is to promote positive outcomes for children, adults and families in Sunset Park through the provision of a comprehensive range of neighborhood-based family and social services. Read More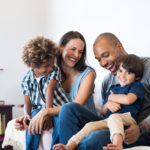 For over 50 years, SCO's Foster Care practice has been helping children and their families grow, heal and thrive. We find safe, temporary families for children and teens throughout New York City and Long Island. Read More
Success Stories
Madelin, Omariano & Mariano
Baby & Me
"I get so much out of it. I don't know what I'd do without Baby & Me." Learn More
91%
of women in our residential recovery program remained substance free
98%
of the young adults in our Scattered Site Supportive Housing program were gainfully employed, engaged in school, or both