 Young Adult Workforce Program
The Young Adult Workforce Program provides multiple pathways to success for young adults (18-21) currently and/or previously in NYC DOC custody. The program aims to reduce recidivism by increasing the employability of the population served. The program offers a range of services prior to the young adult's release from Rikers Island, including group workshops and individualized support services, and a variety of post-release services geared towards supporting reentry.
Who Can Benefit from this Program
Young adults who are on or have been released from Rikers Island
Age Criteria or Other Eligibility Requirements
Age 18-21
How to Access this Program or Service
Referred by NYC Department of Correction
Related News
Success Stories
Wilson's Story
You don't always know you have a gift.
"Thanks to SCO Family of Services and Westbrook Preparatory School for being part of my success story," said Wilson. Learn More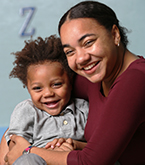 Isis & Kaiden
Bethany I
"We've made lifelong friends and family. It was a beautiful struggle." Learn More
Last year, we placed
1,470
youth in employment, subsidized employment or internships
87%
of young adults in foster care (18+) are enrolled in school or working