 Madelin, Omariano & Mariano
February 23, 2018 /
"I was struggling," recalls Madelin.
A new mother of twins, she seldom left her home. She didn't feel that little Omariano and Mariano would be safe at the park. So for the most part, they stayed home. Every day. For almost two years.
"It was hard," she recalls. "I felt guilty. The boys were so little, and they weren't speaking because we didn't socialize enough."
Everything changed last May, when Madelin and her twins joined the Baby & Me program, which offers developmental playgroups and parenting support for parents and their children ages 0-2.
"It's like a little preschool!" she raves. "So safe and positive. It's amazing."
Now every Monday, Madelin and her boys enjoy guided activities like songs and circle time. And as the twins gain essential development and socialization, Madelin soaks up parenting skills and confidence from the community.
"The first time the family came, Madelin seemed overwhelmed," says Group Facilitator Mimi Ogawa-Spigland, LMSW. "Omariano and Mariano clung to her, didn't make much eye contact, but they made tremendous progress in a matter of months."
Today the boys actively participate, developing skills that will prepare them for success in school. Madelin is thrilled to see them so engaged. And Madelin has grown, too, talking about parenting with other moms – including two others with twins.
"It's like a support group,"says Madelin. "I get so much out of it. I don't know what I'd do without Baby & Me."
88%
of young adults in foster care (18+) are enrolled in school or working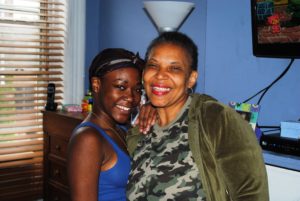 We help
1,100
children and young adults through foster care programs