 SCO News
July 16, 2019 / SCO News
Brooklyn Defenders Services honored SCO for their comprehensive Fatherhood Program that provides support and parenting classes to fathers in Brownsville, Bed-Stuyvesant and East New York. Brooklyn Defender Services honored SCO Family of Services for the success and widespread influence of its Fatherhood Program. The award was accepted by Fatherhood…
Read More
---
April 30, 2019 / SCO News
The program provides a range of supportive services to help mothers and their families find a path out of poverty. Jeremiah Program New York, a national nonprofit providing career preparedness and support services for single mothers, is currently recruiting for the next…
Read More
---
January 22, 2019 / SCO News
United for Brownsville's initiative, Discover Together: Brownsville, will be the focus for the newly created Yale Child Study Center-Scholastic Collaborative for Child & Family Resilience. Discover Together: Brownsville is a project to support the literacy and social and emotional learning of families with young children in Brownsville, Brooklyn. The Collaborative…
Read More
---
May 14, 2014 / Independent Youth News
"Life Lines" Community Arts Project was proud to present this year's original production, "DREAMS" during the week of May 12 – May 16, 2014, with six performances at Sunset Park High School. Our cast of 150+ participants includes students from Sunset Park High School, MS 821, MS 136, as well as from other Brooklyn middle and high schools. "DREAMS" provides a glimpse into the lives of 16 teenagers and parents as they follow their hearts and explore their innermost hopes, despite the obstacles standing in their way.
Read More
---
May 2, 2014 / Independent Youth News
The 4th Annual SCO Family Dynamics Art Auction was a huge success! Thanks to our wonderful supporters and all the artists who donated their work, last night's benefit raised a record amount and will help us to expand after-school arts programming in Bedford-Stuyvesant, Bushwick and Brownsville. Thanks, everyone!
Read More
---
April 28, 2014 / Independent Youth News
The Wall Street Journal By MELANIE GRAYCE WEST April 27, 2014 9:31 p.m. ET Everything good about an arts education for children—fueling personal expression, improving cognitive development and having fun—is what Alexandra Alger wanted for her own children. Turns out, she also wanted it for children living just a few miles from her in the Bedford-Stuyvesant section of Brooklyn. About six years ago, a friend encouraged Ms. Alger to check out the after-school programming provided by Family Dynamics, an initiative of the SCO Family of Services, a Brooklyn-based organization that provides a variety of social and occupational services to help some of Brooklyn's neediest people.
Read More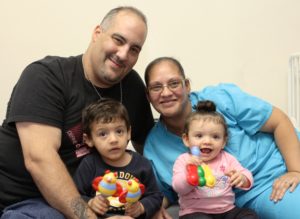 90%
of residents in our NYC shelters were successfully discharged to stable housing
We help
2,700
people with special needs develop skills to reach their full potential