 Two teens served by SCO earn top honors at 16th Annual Awards for Youth in Foster Care
June 9, 2014 / Independent Youth News
Christopher Sanchez and Domonique Wheeler, two teens in foster care living in SCO group homes, were among the 15 young people honored at the 16th Annual essay Awards for Youth in Foster Care, presented by Youth Communication and Represent: The Voice of Youth in Care magazine. Christopher Sanchez, 19, was the Grand Prize winner and won a $1,000 scholarship for his essay titled "Turning My Life Around." Domonique Wheeler, 20, earned Special First Prize honors and a $700 scholarship check for her essay, "For His Own Good."   
More than 50 young people living in foster care in New York City were nominated. Each of them wrote about how they would dispel stereotypes about youth in foster care, and how they have helped others despite their own difficult circumstances.
Academy Award-nominated actress and LGBTQ youth advocate Rosie Perez introduced Sanchez at the recent ceremony.  His essay describes how he overcame a difficult childhood and years of depression, bullying and abuse.   After finding placement in an SCO-run LGBTQ group home , returning to school and working hard at internships and jobs, Christopher is now a high school graduate and top seller at Forever 21, who will soon be moving into his own apartment and starting college only one year behind schedule.
Wheeler'sessay describes her decision to stage an intervention and find professional help for a friend who was struggling with drug abuse.
Manhattan Borough President Gale Brewer congratulated the winners at the award ceremony's opening reception. Other speakers and award presenters included Council Member Corey Johnson, journalist Lisa Evers (Fox 5/Hot 97), Eric Brettschneider (Deputy Commissioner, NYC Administration of Children's Services) and Jeremy Singer (Chief Operating Officer, The College Board).
Thank you to SCO Family of Services' Lili Glauber, who nominated SCO's young award winners, and CONGRATULATIONS to Christopher and Domonique!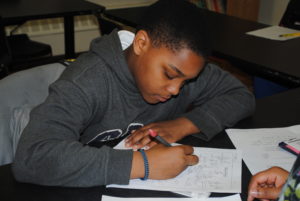 Children in our NYC shelters had a
96%
attendance rate at NYC DOE schools
91%
of babies in our Nurse Family Partnership were current with immunizations at 24 months