 National Adoption Month – SCO Forever Families Updates
November 20, 2014 / SCO News
November is National Adoption Month and we're celebrating by catching up with some of the adoptive families we've featured in the past year.
Noah and Brigid Mehegan
Noah Joshua Mehegan, age 6, has been Brigid's son since he was 2 years old. On February 24, 2014, Brigid adopted him. While everything was the same as far as Noah was concerned, that day gave Brigid a feeling she will never forget. "It didn't really hit me until the judge said 'You are officially Noah Joshua Mehegan,'" Brigid said. "It took my breath away. It was amazing. I'd like to relive that feeling over and over." From that point on, Noah would have only one name. Brigid would be able to make all of the medical and other decisions regarding Noah without needing consent from someone else. It took away all of the uncertainty Brigid had lived with as a foster mom.
Noah had developmental delays as a young child but he's worked very hard and is now at grade level and doing well. He's a courageous overcomer who speaks two languages, French and English, and is obsessed with chess. He's so good, in fact, that he won an award to attend a chess camp with private lessons. Noah is a typical 6-year old who likes super heroes, especially the Teenage Mutant Ninja Turtles. He's very active, taking karate and gymnastics lessons and participating in the math club.
Brigid and Noah love to travel and have been to several states, including Vermont and Hawaii to visit Noah's cousins. She's hoping to take him to Europe one day. The two of them attend church together every Sunday and take in all the activities, parks and museums that NYC has to offer. They have a positive relationship with Noah's birth mom, who they see once a year. "He's my world," Brigid said. "I love being a mom. It's my favorite thing in the world."
Laila, Liza and Valentin
Liza and Valentin adopted Laila on November 18, 2013 when she had just turned 3. Laila, now 4, had been part of their family through foster care since they picked her up from the hospital when she was just nine days old. She's a typical 4-year-old who likes princesses, Barbies and Cinderella and tells her mom she's going to "own a pink car and drive you around." Laila started therapy in June to help with her developmental delays and has already made great progress.
While adoption day was surprisingly uneventful given all of the ups and downs Liza and Valentin had gone through to reach that point, it provided a sense of relief for them. It has allowed them to make decisions regarding Laila and her future without needing anyone else's approval, so they could move forward. Throughout the process, Liza said, "SCO was really fantastic. They always did what was best for the child."
Laila and her family have already experienced a lot together… vacations, birthday parties, family outings. She is exploring the world and loved by many. "Laila is an intelligent, kind, affectionate child," says her mom. "We're elated with her, she's our girl. We're so lucky she chose us as her parents."
Matthew and Blanca Gomez
Blanca Gomez adopted Matthew (4) on June 12, 2014 – although he's really been part of the family since he was 8 months old, when Blanca became his foster mom. Matthew, who has autism, has made tremendous strides since he's been in Blanca's care. "Doctors used to say he would have trouble communicating and speaking," said Blanca. "Now he recognizes colors, numbers, letters and his name. " He speaks with a limited vocabulary that continues to grow.
His sisters, twins Joann and Joanna,  help Matthew as well, bringing expertise from respective careers as an SCO social worker and a special education teacher. "We celebrate his accomplishments," says Blanca, "He'll come back from school and tell us the good things he's done. He'll hug everyone."
Matthew is a happy, loveable little boy who has been welcomed into the family with open arms. Over 40 family members and friends were on hand for his baptism. Matthew, who loves to dance, is often the last one to sleep when there's a birthday party or other family function.
Matthew and Blanca are very close. When she steps out, Matthew misses her. "He feels like he's my son," she says. "We always take things one day at a time, but he's going to keep making a lot of progress."
We help
2,700
people with special needs develop skills to reach their full potential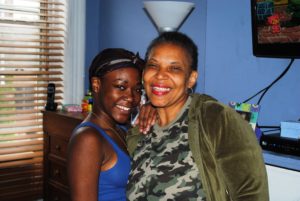 We help
1,100
children and young adults through foster care programs