 Congrats Bronx Arena High School grad Annette Hankins
June 16, 2014 / SCO News
Bronx Arena High School student Annette Hankins will walk across the stage on June 26th to accept her diploma, an astonishing accomplishment. At age 20, Annette lives in an apartment in Soundview with her fiancé, Jason, son Tayvon (4), and daughter Neveah (2) –  and she is pregnant with their third child, due in August. Completing high school while pregnant with two young children would be difficult for most people, impossible for some. But Annette turned her responsibilities into motivation.
"It's not about me, it's about my kids," she explained. "I wanted more for them. I wanted them to have what they needed. I knew education was the key."
One day, Annette passed by Bronx Arena High School, one of the three transfer high schools managed by SCO and the NYC Department of Education. After finding out that students could earn credits at their  own pace,  Annette applied for admission to the school and began attending in October, 2013. The staff weren't prepared for what happened next. In just two days, Annette earned her first credit. Once she got going, she never stopped. "I realized how many credits I could get and I kept going faster and faster,' she said. "The entire staff encouraged me."
In foster care since age 14 when she was pregnant with her first child, Annette's education was repeatedly interrupted when she moved among several different group homes during middle and high school. Once she got settled at Bronx Arena,  Annette flourished.
"She came in and credits started exploding," said her teacher, Katie Glass. "She's the perfect example of how this school is supposed to help students succeed."
Annette has worked extremely hard since the day she started. She studies after school and on weekends, logging many hours to reach her goal of graduating this year.  The school has provided her with much more than a path to graduation; it's helped her socially and emotionally as well.
Annette's advocate counselor, Todd Swagler, has helped her on communication skills, professionalism and maturity. "From things as simple as not emailing in all caps to identifying her own feelings and developing a strategy to deal with them," says Todd. "She's made huge strides."
"This school was more than I expected," Annette said. "It was a relief that there were people in my corner to talk to. I can talk to my AC Todd about anything. It helps me focus on the rest of the day."
Annette has amassed 21.5 credits since arriving in October, a record at Bronx Arena.  She'll be attending Bronx Community College in January and is interested in pursuing a career in criminal justice or corporate law.
"I love Bronx Arena," she says. "I recommend it to anyone who has no help left. Everyone's here for the same reason, to help us succeed.  "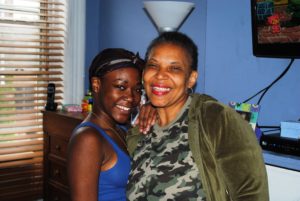 We help
1,100
children and young adults through foster care programs
We shelter
5,200
youth, adults and children