 Fordham University Highlights Theresa Paplin School's Dream Factory
May 25, 2023 / SCO News
The Fordham University Center for Educational Partnerships recently highlighted The Dream Factory, an in-house printing and engraving shop run by staff and students at SCO's Theresa Paplin School in Queens, in their April newsletter. The Theresa Paplin School is a non-diploma bound, New York State certified special education school that serves adolescents and young adults who are dually diagnosed with a serious emotional disturbance as well as a developmental disability.
A team from Fordham University's Professional Development Resource Center (PDRC) was at the school leading a year-long development series, "Integrating STEM, Literacy, and Social Emotional Development," in which they facilitated various workshop-style professional development days for staff.
During the breaks, Director of Fordham PDRC Roser Salavert and her team toured the Dream Factory, learning more about the students and staff and how they strive to integrate STEM, Literacy, and SEL through their regular programming. They were so impressed, they chose to highlight Theresa Paplin School's Dream Factory as one of two innovative educational examples in the April 2023 issue of the Fordham University Newsletter.
It was the first collaboration between Fordham PDRC and Theresa Paplin School. Through the workshops, TPS teachers and staff learned innovative ways to engage students through hands-on curriculum enhancements and were given free trials to web-based software that the students used to create their own music beats. Some of the students even composed their own original beats to accompany their performances for Theresa Paplin School's Black and Women's History Months celebrations.
Some of the PDRC workshops included:
Integrating STEAM Literacy into the Curriculum for All Students
Student Self-Actualization and Personal Expression through Music and through Video Production
Using the Text Structure Strategy to Create Powerful Voice and Video Messages
Tips, Tricks and Tools to Blend STEM with SEL
This working collaboration ended up being a learning experience for all involved. Theresa Paplin School is hoping to continue working with Fordham University's Professional Development Resource Center in the future.
85%
of residents in our group homes for adults with developmental disabilities attended Day Habilitation and receive vocational services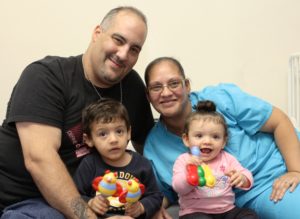 90%
of residents in our NYC shelters were successfully discharged to stable housing