 Jeremiah Program Coaches Single Mothers in Brownsville Through College
April 30, 2019 / SCO News
The program provides a range of supportive services to help mothers and their families find a path out of poverty.
Jeremiah Program New York, a national nonprofit providing career preparedness and support services for single mothers, is currently recruiting for the next cohort in Brownsville. 
In partnership with Community Solutions, SCO Family of Services and CUNY Medgar Evers College, Jeremiah offers a pathway for motivated single mothers with young children to complete a college education and ensure their children are ready for success in school.
The program provides a supportive community to single mothers through a combination of quality early childhood education, a safe and affordable place to live, empowerment and life skills training and individual coaching, to help mothers and their families find stability and a path out of poverty.
"The hope is that the women feel inspired, empowered and motivated to continue their education, whether it's a GED or college degree with the support of the Jeremiah Program NY," said Madeline Sanders of Jeremiah Program NY. "Those in our care experience a community of support in which they can grow and see new possibilities for themselves."
According to the American Community Survey, 41 percent of single mothers in NYC live in poverty, and they are nearly three times as likely to live in poverty as married families.
Poverty is especially acute among women in Brownsville, a neighborhood where nearly two-thirds of households are headed by a single mother. Yet, women in Brooklyn with a bachelor's degree earn more than twice that of women with a high school diploma or GED alone. And although 85 percent of Brownsville's 5,700 children under five are eligible for EarlyLearn NYC, federally-subsidized childcare, there is capacity in the neighborhood for just 700.
To serve families headed by low-income single mothers in Brownsville, and to fill a void of supportive services, Jeremiah Program established its program in 2016. Less than a year later, in August 2017, Jeremiah started the first empowerment course for ten single mothers enrolled at Medgar Evers College. Since then, the program has steadily expanded and is now ready to welcome the next cohort of families.
Interested single mothers can find out more about the Jeremiah Program NY in two upcoming information sessions, on Thursday, April 18, and Thursday, April 25. Attendees will learn about the admissions process and will have an opportunity to engage with staff to ask questions regarding the program and benefits.
Jeremiah Program NY Info Session
When: Thursday, April 18, 10:00am and Thursday, April 25, 5:0pm
Where: Gregory Jackson Center, 519 Rockaway Avenue, Brooklyn, NY 11212
We shelter
5,200
youth, adults and children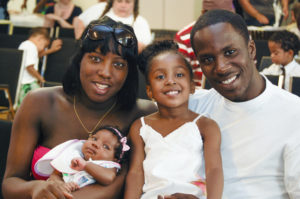 We provide
14,000
families and individuals with support services and community activities