 SCO Family of Services Celebrates National Volunteer Week
April 11, 2014 / Independent Youth News
SCO Family of Services, one of New York City and Long Island's leading nonprofit human service agencies, is celebrating National Volunteer Week (April 6 to April 12, 2014) by recognizing our outstanding volunteers. SCO provides life-changing results for more than 60,000 people each year at over 110 locations throughout New York City and Long Island. SCO is able to provide this level of care thanks in large part to the support of nearly 800 area residents, who collectively volunteered more than 31,600 hours over the last year.
This week, SCO Family of Services gave special recognition to four exceptionally dedicated Long Island volunteers: Fort Salonga resident Gale Campisi, Great Neck resident Joe Hirsch, West Hempstead resident Susan Ainbinder and North Babylon resident Elaine Chambers. SCO also recognized Long Island based Whitsons Culinary Group and GAP, Inc. among its top corporate volunteers.
Gale Campisi, Fort Salonga, NY
Gale Campisi is an active volunteer for Madonna Heights, a Dix Hills program dedicated to supporting young women recovering from trauma, and women in recovery. Gale was first introduced to SCO Family of Services at a luncheon benefitting SCO's family shelter, Dotty's House, located in North Babylon. Campisi found that SCO's mission resonated strongly with her, so she began volunteering in the Program Support Center, and eventually started running the Dotty's House Luncheon, an annual fundraiser that helped fund a much needed addition to the shelter. Campisi continues to participate in Madonna Heights' annual golf outing and fashion show events, and has become a mentor and role model to a student at Madonna Heights. "The rewards I received from giving to the programs have been immeasurable, and the people I've worked with have become dear friends," Campisi said. "Being involved with SCO's Madonna Heights has been a wonderful blessing in my life."
Joe Hirsch, Great Neck, NY
Great Neck resident Joe Hirsch has been volunteering at the Robert J. McMahon Children's Center (RJMCC) Residential Treatment Center for almost three years. The Nassau County-based RJMCC provides programs and services for children and adolescents with developmental disabilities. He first became familiar with SCO Family of Services while working as an attorney for New York's Mental Hygiene Legal Services. Now retired from law, Hirsch teaches tennis in Roslyn and Great Neck. Every Thursday afternoon – rain, snow or shine – he visits Sea Cliff to offer tennis lessons to the children and adolescents at RJMCC, using equipment he purchased for them. Hirsch believes the lessons are beneficial, not only because they provide exercise and help to develop eye-hand coordination for the children (some of whom have extreme physical disabilities) but also because he feels that tennis can be something they can enjoy all their lives. "There is a certain satisfaction you get from being with the kids and getting to relate to them a little bit," Hirsch said. "As long as they participate and enjoy it, that's the important thing."
Susan Ainbinder, West Hempstead, NY
Susan Ainbinder has been mentoring at the Residential Treatment Center at the Robert J. McMahon Children's Center for two years. Ainbinder said she first fell in love with the young people served by SCO after watching the children modeling at the annual SCO Family of Services Fashion Show fundraiser (which is scheduled for May 7th). "I wanted to give them something, but I didn't have the means to give much financially," Ainbinder said. "So I decided to give my time." Ainbinder spends time every week with her mentee, Chris, doing arts and crafts, playing games outside like horseshoes and badminton, watching movies and enjoying his favorite activity, cooking. Recently she took Chris and the other teens in his unit to the Bronx Zoo.
Elaine Chambers, North Babylon, NYElaine Chambers has been regularly volunteering in the development office at Madonna Heights for more than two years, where she helps perform administrative duties. Before becoming a volunteer, Chambers worked in the Madonna Heights development office for over 26 years. Referred to as the "Agency Historian," Chambers possesses a wealth of knowledge and a true understanding of the program, its mission and its goals. "Volunteering gives me a chance to continue to help out and keep busy," Chambers said. "I hope I'm doing some good!"
This week SCO Family of Services recognized Islandia, Long Island-based Whitsons Culinary Group for its dedicated volunteer service. Recently, nutritionists from Whitsons designed and facilitated Whitsons WellLife Workshop, a nutrition program that integrates parenting and nutrition information. Whitsons employees have also partnered with KaBOOM! to build a playground and have annually supported SCO with in-kind donations, including Christmas gifts for children in homeless shelters.
SCO also recognized GAP, Inc. as a top corporate volunteer this week. Local Banana Republic and Banana Republic Factory Store employees have volunteered nearly 300 hours since September, facilitating job interview skills workshops for young adults, providing a managerial development workshop for SCO staff, supporting the 2014 Shepherd's Gala and hosting an SCO in-store Champions for Charity event.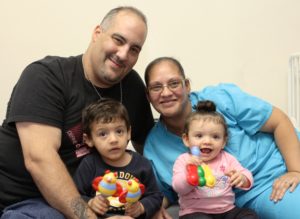 90%
of residents in our NYC shelters were successfully discharged to stable housing
93%
of adults with developmental disabilities living in SCO's IRAs (group homes) made meaningful connections by participating in community inclusion activities