 Saturday Night Lights at the Beacon
March 17, 2023 / Independent Youth News
Young people in Bedford-Stuyvesant looking for a fun, safe place to spend their Saturday evenings have a great option, SCO's Beacon at MS 35. The Beacon's Saturday Night Lights (SNL) program provides middle and high school girls and boys with a supervised, open gym every Saturday from 5-9PM.
Saturday Night Lights is a city-wide sports initiative sponsored by the NYC Department of Youth and Community Development (DYCD) and the District Attorney's Office. The program is hosted at various locations throughout the city, including our Bed-Stuy Beacon Center.
The Beacon offers an open gym for dance and basketball, including training for both activities for middle school participants. SNL provides the equipment. Sandwiches and snacks are also provided.
In addition to offering a safe place to engage in sports, the Saturday Night Lights program is also designed to create an open dialogue between youth and the NYPD. Along with coaches, staff and security personnel, two NYPD officers attend each week, mingling with youth and often participating in pick-up games. Their engagement helps develop a sense of trust with our young people.
Through the program, middle school students get to attend Brooklyn Nets games, scrimmages and basketball clinics. High school students receive information about jobs, college fairs, the Summer Youth Employment Program and more.
Saturday Night Lights is a big hit with the community. Students like having a place to enjoy their favorite sports. Parents love knowing that their children have a safe space to go during the evening hours.
Over 120 youth are enrolled in the Saturday Night Lights program, further enhancing the Beacon as a pillar of the Bed-Stuy community.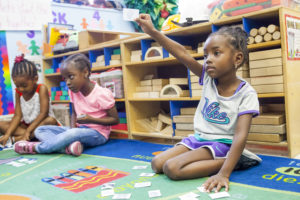 We help
1,500
children get ready for kindergarten
96%
of 12th graders in Family Foster Care graduated high school; 61% are enrolled in post-secondary education