 SCO Partners with Studio in a School Program to Foster Creativity in Brooklyn Preschoolers
June 27, 2019 / SCO News
Parents and teachers gathered  to enjoy artwork created by students of SCO Family of Services' early childhood education center located in Ocean Hill – Brownsville as part of the Studio in a School program supported by Council Member Alicka Ampry-Samuel. SCO's early childhood programs support the development of young children's social, emotional and literacy development.  This collaboration builds essential skills to problem-solve and work in groups while fostering the students' creativity and confidence.
Studio in a School provides staff with on-site mentoring and coaching to support the teachers in activating their art centers and displaying children's work. Coaches also provide workshops for parents and their children to facilitate their engagement in creative outlets. Studio in a School helps children build vocabulary and self-confidence while encouraging them to take risks with colors, explore their own creativity, and engage in meaningful conversations.
Throughout the year, Studio in a School's early childhood artists worked with SCO staff at the center to teach the young children how to create shapes and colors using paint and canvas. On Tuesday, parents had the opportunity to paint with their children and reflect on what they had learned during the program.
"Studio in a School supports our early childhood program by fostering a visual arts program, directed by art professionals. This is SCO's third year of Studio in a School. We are so grateful to Council Member Alicka Ampry-Samuel for supporting this program, and providing our teachers and parents with the tools they need to help our students flourish," said Keith Little, Executive Director, SCO Family of Services.
SCO Family of Services is one of the largest social service providers in the Metro New York Area. Its programs serve more than 60,000 New Yorkers each year. SCO's 84 programs include early childhood, behavioral health and foster care programs; schools for youth with special needs and NYC high school students needing support to graduate; and an array of community-based and residential programs for families, youth and adults. SCO has five early childhood learning centers in Brooklyn and Queens.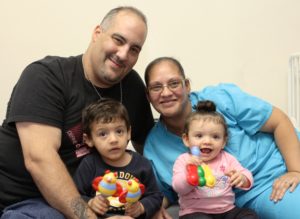 90%
of residents in our NYC shelters were successfully discharged to stable housing
We shelter
5,200
youth, adults and children