 SCO Family of Services Speakeasy Soiree Highlights Impact of Programs that Strengthen New York Families
April 26, 2023 / SCO News
(New York, NY) SCO Family of Services, a leading provider of essential human services for more than 125 years, held a Speakeasy Soiree – "Unlocking potential for children and families" at the Mutual of America Building in New York City. Funds raised at the annual event will help SCO provide vital services for more than 50,000 children, teens, families and adults each year across New York City and Long Island.
SCO honored PharMerica, a nationwide trailblazer in pharmacy services, with the Corporate Leadership Award for their partnership and unwavering philanthropic support spanning more than two decades. Accepting the award was PharMerica North Pharmacy District Manager Charley Seide.
BSE Global, parent company of Barclays Center, the Brooklyn Nets, Long Island Nets and NetsGC, received the Humanitarian Award for enriching the lives of SCO youth and families. BSE Global Manager, Community Relations Leah Lawrence and Senior Director, Community Relations Heather Hall accepted the award.
"We are proud to honor and recognize PharMerica and BSE Global for their commitment to the children and families in our care," said Suzette Gordon, SCO Family of Services Interim President and CEO. "We are grateful for their continued partnership and look forward to more opportunities to work together to strengthen our communities."
Guest Speaker Quamayne Thomas, a graduate of SCO's Fathers' Program, shared his transformative experience in the program and how it gave him the tools to improve and strengthen his relationships. He was joined on stage by his young son where he received special citations sent from Senator Roxanne Persaud and Council Member Charles Barron to recognize his accomplishments.
The event was hosted by Donna Drake, award-winning creator and host of "The Donna Drake Show: Live it Up!" Live music, strolling casino games, and fabulous auction prizes rounded out the exceptional evening.
SCO extends its gratitude to the sponsors, supporters, and volunteers who made the event a success, led by the Speakeasy Soiree Event Committee and its Co-Chairs, SCO Board Members Essya Hanachi and Mike Furlani. This year's presenting sponsor was Mutual of America. Leading sponsors included Essya Hanachi, PharMerica, Corporate Synergies, and Squash Exterminating.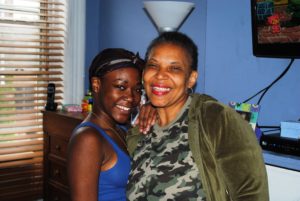 We help
1,100
children and young adults through foster care programs
93%
of adults with developmental disabilities living in SCO's IRAs (group homes) made meaningful connections by participating in community inclusion activities