 "Special Man in My Life Day" at the Early Childhood Education Center
February 17, 2013 / SCO News
One dad sat still for a pretend "makeover." Others dug into building blocks, and some just sat and read aloud with their children. No matter the activity, everyone found pleasure and meaning in "Special Man in My Life Day," held recently at SCO's Jerome Hardeman Early Childhood Education Center in East Elmhurst, Queens, one of SCO's three NYC EarlyLearn sites.
"I hope they do this more often," said Jonathon, whose daughter Emma, 4, attends the Center. "It's very important for me to be there for her because she sees that I care."
More than 30 dads, uncles, grandpas and friends attended the special day, which emphasizes the importance men have in their children's lives. "I love the reaction in the guys' faces when they play," Center Director Marie Fadoul said. "Sometimes men are there for their kids but just don't know what to do. This gives them a chance to interact with their kids by playing and it gets them to think about other things they can do together."
Smiles were everywhere as the kids spent the afternoon with their special guests. Marcos Malvido of the Forestdale Inc. Fathering Initiative spoke to the group about things men can do to be a positive influence on the kids' lives. Malvido will be holding a 10-week workshop at the Early Childhood Education Center beginning in March.
100%
of eligible students at Westbrook Preparatory School passed the Regents exam on the first try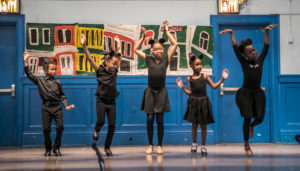 We inspire
5,400
children and teens through academic, after-school, summer and work readiness programs