 Aspiring Young Chef Reaches for His Dreams
November 29, 2022 / Independent Youth News
A cooking class donated by longtime SCO supporter Chem Rx became a wonderful learning experience for an aspiring young chef in our foster care program.
Breshan, a youth in care, has a passion for cooking and aspires to become a chef one day. He currently works as a server at a restaurant in LaGuardia Airport and plans to become a line cook. Arzu, his Forward Journey Coach, has been helping him explore culinary programs. When Chem Rx donated an Essex Market Kitchen cooking class to SCO, Breshan was the perfect match!
Breshan, accompanied by Arzu, was excited to attend the class. Together, they learned how to cook a variety of Latin American cuisine – including sancocho, flan, white rice, and domplines – utilizing Essex's state-of-the-art training kitchen. The experience has inspired Breshan to continue working toward his goal.
Thank you, Chem Rx, for giving Breshan this amazing opportunity!
91%
of babies in our Nurse Family Partnership were current with immunizations at 24 months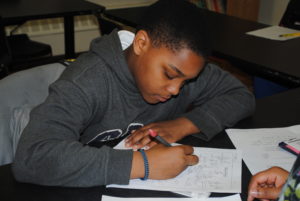 Children in our NYC shelters had a
96%
attendance rate at NYC DOE schools