 SCO's Center for Family Life Celebrates a Summer of Service
August 12, 2014 / SCO News
On August 7, the 64th Street Community Garden welcomed elementary school students from PS 503 and 506 to celebrate the conclusion of Center for Family Life's 2014 DYCD Summer of Service program. For the past four years, the Summer of Service program has engaged youth and parents by creating opportunities for family members to get involved by harvesting crops and participating in learning activities that promote healthy nutrition and support a vibrant outdoor life.
Summer camp students planted flowers and painted their pots. There was a seed collecting and medicine bag making center where participants dissected sunflowers and lettuce to create seed saving envelopes. Others sorted through dried herbs and flowers to choose contents for medicine bags which they wrapped in voile fabric and sported around their wrists. Each activity featured components of lessons campers participated in over the summer.
The event also featured tables under the shade of tents, serving honey and sunflower seed butter roll ups with raisins, strawberry-kale smoothies and pesto veggie wraps with kale salad. Many of the lunch ingredients were harvested from the garden by Summer Youth Employment Program (SYEP) participants, who staffed the celebration and worked during the summer on maintenance and development of the community garden. SYEP teens kept busy during the afternoon event, preparing and serving wraps and smoothies to hungry campers.
The Summer of Service project provides a wonderful opportunity for learning, community building and youth engagement in Sunset Park. Center for Family Life is excited to offer this program each year, and we are grateful to DYCD for its support.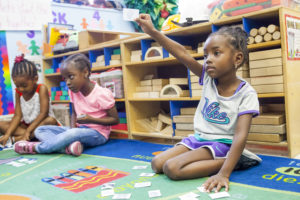 We help
1,500
children get ready for kindergarten
93%
of adults with developmental disabilities living in SCO's IRAs (group homes) made meaningful connections by participating in community inclusion activities