 Congratulations Andrei Williams-Hanna!
September 2, 2014 / Independent Youth News
For Andrei Williams-Hanna, an 18-year-old living in one of SCO's LGBTQ group homes, there was never any question that he would go to college; his goal is to become a cardiologist. But Andrei, a native of Jamaica, needed help to pay for tuition. He was understandably devastated by the news that he had not been awarded any of the college scholarships for which he applied. He asked if he could give up his clothing allowance to offset the cost of tuition.
"In all these disappointments, he never lost his cool, never made a scene and never got angry," said SCO Transitional Specialist Zuleika Almanzar. Instead, Andrei remained focused, going on every possible program outing in hopes of meeting someone who could direct him toward a potential funding source. With the help of Almanzar and SCO LGBTQ Program Therapist Lili Glauber, he pursued every available lead.
On August 27th, Andrei again received scholarship news that made him cry. But this time, they were tears of joy. He was awarded SCO's Pat Brown Scholarship, given annually to an outstanding student in SCO's care. The scholarship, named for longtime SCO volunteer Pat Brown, will cover his tuition and the cost of books at Kingsborough Community College this fall. "He hugged us for over five minutes and would not let go," Almanzar said. When Andrei was finally able to lift his head, he went throughout the entire office doling out more hugs and individually thanking each person there.
Almanzar's pride in Andrei was evident as she shared her own feelings of gratitude in an email she sent, at his request, to everyone he wasn't able to thank personally. "Not only is Andrei a youth here at the LGBTQ programs, but also, he is a wonderful person with so much kindness, his heart is enormous, and his energy is so positive. We all just love to have him around."
The soon-to-be Freshman biology student and pre-med hopeful first became interested in studying the heart as a high school student in his hometown of Clarendon, located on Jamaica's south central coast. He credits his 10th grade science teacher, Ms. Hayles-Anderson, with inspiring his fascination with the heart and circulatory system. He recalls rushing home after school during the month his class spent learning about the heart in order to read ahead for the next day's lesson. Andrei has a personal connection to the issue of heart health – heart problems run in his family. His grandparents have suffered strokes and heart disease. "I'm a very family-oriented person," he said.
The love and support of his family continue to play a major role in his life, even after he left Jamaica in pursuit of more academic opportunities, as well as a more tolerant culture. When he first arrived in the United States, Andrei stayed with relatives in Florida for a few months before moving to New York City where he could get the social services and public assistance programs he required to pursue his education. He greatly appreciates the help, but points out that he wouldn't be who he is today without his family.
"My dad played a huge role in me going to high school," he said, explaining that Jamaica has no public education system, so students and their families must bear the cost of attending private schools. "He covered everything and was always there," Andrei said.
He looks forward to eventually having his father, mother and eight-year-old brother visit him in New York, after he's gotten a little more settled into his new life as a college student.
"My mom is my greatest motivation. Her drive for success has motivated me to be somebody."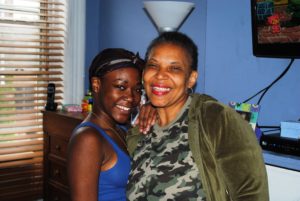 We help
1,100
children and young adults through foster care programs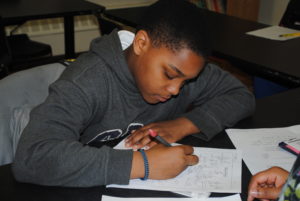 Children in our NYC shelters had a
96%
attendance rate at NYC DOE schools