 Family Dynamics Mentoring Program builds relationships that matter
October 16, 2014 / Independent Youth News
Jada Wade was eight when she took her first field trip in Family Dynamics' Mentoring Program. She was paired with volunteer Ray Siegel, a first-time mentor, and the two –now ages 11 and 30 – have been inseparable on every trip since.
Family Dynamics' Mentoring Program matches 25 children in its school-based programs with adult professionals who accompany the young people on monthly outings to recreational and cultural sites in New York City. It gives the kids a chance to establish relationships with their mentors while enjoying new experiences. On Oct.23rd, SCO will hold the annual Youth Mentoring Program fundraiser at the Gilded Lily in Manhattan – please join us!
Jada and Ray clicked immediately. Both soft spoken, they quickly learned they shared a lot of the same interests. As Jada began opening up to Ray, she quickly realized she had found someone who she could confide in — someone who really cared. "I know I can always ask her anything and she'll always give me an answer. I look up to her," says Jada. Ray quickly learned that Jada also had a lot to give; she just needed "a tiny push and some support." The mentoring trips gave Jada the opportunity to show others, and herself, what she could really do. She gained confidence with every excursion.
Ray recalled a trip last year to Wollman's Rink. "Jada didn't know how to skate, so she held my hand as we got on the ice. After a little practice, she was skating on her own. She was so proud! Hopefully, this has given her a similar confidence in other areas of her life."
Jada's mom, Lisa, has witnessed her daughter's growth. "Jada became more mature. The mentoring program helps her communicate better. Her social skills have really improved. She has a lot of confidence in herself."
"There's simply no better feeling than watching our mentees grow up, building a level of trust and giving them a new type of friendship that they may  not have with other adults," says Ray. "Being around children and seeing that hope in their eyes makes me a better person and reminds me to channel to a time in my childhood when life felt the same way."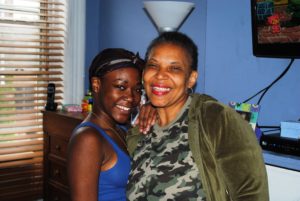 We help
1,100
children and young adults through foster care programs
93%
of adults with developmental disabilities living in SCO's IRAs (group homes) made meaningful connections by participating in community inclusion activities