 Goodbye and Good Luck, Gail!
October 31, 2014 / SCO News
SCO staff gathered at the Glen Cove headquarters Thursday to honor departing Executive Director Gail B. Nayowith with gifts, flowers, lunch, two cakes (with SCO logos) and a staff newsletter dedicated to her accomplishments – along with many speeches and thank-yous for her four years of dedicated and visionary service.
"Gail took us into the future," said Interim Executive Director Doug O'Dell. O'Dell lauded Gail's respect for all aspects of SCO's work – from administrative functions to programs. "She fought for us privately and publicly. She brought advocacy, respect, a great sense of humor and a great smile. And we love you for it." 
Staff recalled Gail's avid participation in their activities, showing up in snowstorms, on weekends and evenings; her love of poetry and her zealous defense of staff and the organization.
"You noticed the unnoticed," said Chief Program Officer Rosemary Stein. "You will be greatly missed." Said Assistant Executive Director Vivian Floch: "You nurtured us and served us. You raised expectations and you had our backs. You are an exemplary leader."
Responding to staff, Gail said: "I Love SCO – the work, the staff, the people we serve. It has buoyed me, challenged me, and stretched me every day to be a better person, practitioner, manager, planner, problem solver, mediator, analyst, leader and more. I am a better person for knowing and working beside you." SCO, she says, plays a vital role in New York's social safety net and must every day try to make the world a better place for the people we serve. During the last four years of extensive change and growth, she recalled, SCO built new programs for young children and court-involved youth, responded to Hurricane Sandy, transformed foster care, deepened our roots in Brooklyn, redesigned critical safety net and support services, and much more.
"I am grateful that through all of this, I've had the privilege of working alongside you – the warmest, most dedicated, talented and most inspiring people I have ever known. Each of you, in your own way and through the collective actions of your program or department, brings SCO's mission to life." Explaining that there wasn't time to name each individual, Gail said: "Please know that in this silence lays the most profound appreciation and gratitude. Thank you, keep the faith, stay strong and continue to do much good."
93%
of adults with developmental disabilities living in SCO's IRAs (group homes) made meaningful connections by participating in community inclusion activities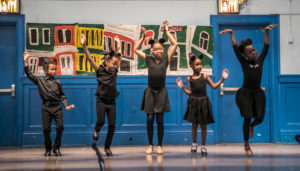 We inspire
5,400
children and teens through academic, after-school, summer and work readiness programs