 SCO Family of Services Partners with Hearts to Homes to Assist Youth Aging Out of Foster Care
February 4, 2021 / SCO News
SCO Family of Services, a leading provider of essential human services in communities throughout New York City and Long Island, has partnered with Hearts to Homes, a nonprofit that assists young adults who have aged out of foster care in their transition to independent living. Hearts to Homes provides household furnishings and furniture, alleviating some of the stress associated with the initial transition.
"SCO is grateful for this new partnership with Hearts to Homes that will outfit the first apartments of our young people who are transitioning to adulthood," said Kimberly Thomas, Director of Education & Parent Support Services at SCO Family of Services. "These "virtual housewarmings" give our young people a sense of stability and pride from the start, and are a wonderful complement to the independent living supports SCO's education, career, and housing specialists provide for our youth."
Roughly 700 young adults age out of foster care each year in New York City and Westchester County. These young people, generally 18 to 21 years of age, face numerous challenges as they step out on their own. Hearts to Homes removes the financial burden of furnishing a first-time apartment, paving the way for a successful transition and a productive life.
"SCO provides the young adults in their care with such tremendous support. We recognize that aging out is a tremendous life transition for youth in foster care. Hearts to Homes knows that the cost of furnishing a first apartment can be a daunting challenge for any young adult, but especially difficult for someone without family support. Hearts to Homes is pleased to provide that support to the young adults of SCO, recognizing the dignity of each individual, the power of choice, and the increased stability that having a safe, furnished home can provide," said Mary Theresa McCombe, Executive Director of Hearts to Homes.
As part of its recent expansion to partner with additional foster care agencies, Hearts to Homes will fund furniture and furnishings for approximately 15-20 young adults who are aging out of SCO's foster care program in NYC.
SCO recipient Listardt Francis, who just recently exited foster care remarked, "I couldn't say thank you enough. I am very grateful and I want to thank everyone involved with Hearts to Homes. Without your help, I would never have been able to buy all this furniture on my own."
For over 50 years, SCO Family of Services' Foster Care practice has been helping children and their families grow, heal and thrive. SCO finds safe, temporary families for children and teens throughout New York City and Long Island. In addition to family foster care, SCO provides therapeutic foster care for children with behavioral health challenges and group homes for older teens and young moms with babies. The ultimate goal of foster care is permanency, and SCO works to ensure that children are safely reunified with their family, placed in loving adoptive homes, or confidently set on the path to adulthood.
We shelter
5,200
youth, adults and children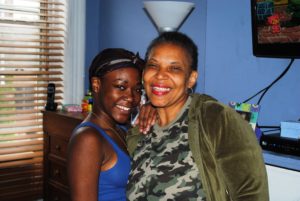 We help
1,100
children and young adults through foster care programs