 SCO Foster Youth Visit D.C.
June 11, 2019 / SCO News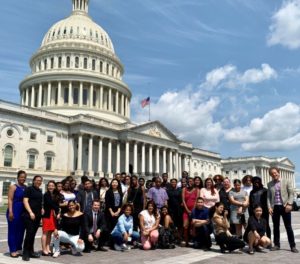 Twenty-eight youth from SCO's Foster Care program got to see our nation's capital up close thanks to the support of the New York City Council and funding provided through the Wraparound Support for Transitional-Aged Foster Youth Initiative.
The youth took a fun-filled four-day tour of Washington D.C. to learn more about our Federal government and visit the Dr. Martin Luther King, Jr. Memorial, Lincoln Memorial, White House, and many other national monuments. A highlight came when the group met with Congresswoman Yvette D. Clarke (9th Congressional District, Brooklyn) for an inside look at Congress and a V.I.P. tour of the Capitol Building. The group wrapped up their excursion with a trip to the Museum of African American History and Culture.
The trip was part of SCO's mentorship program for older youth in Foster Care. It was a first-time visit for most, and the experience has given these young adults an appreciation of civic engagement. See video. More photos.
88%
of young adults in foster care (18+) are enrolled in school or working
93%
of adults with developmental disabilities living in SCO's IRAs (group homes) made meaningful connections by participating in community inclusion activities