 SCO to Launch "Recovery Lab" Youth Workshop
September 28, 2020 / SCO News
SCO Family of Services is excited to launch a new youth development program for middle and high school students. Recovery Lab Youth Workshop brings 50 participants, ages 12-18, from Brooklyn and Queens together twice a week for remote activities. The program will support participants' social-emotional and leadership skills development while laying the foundation for academic success through mentoring, project-based learning, and career and education planning. This six-week program will focus on:
Mentoring
Education
Vocational guidance
Social justice
Career readiness
Community projects
Recovery Lab Youth Workshop will feature structured learning through at-home participation. Youth will attend hour-long Zoom meetings each week.
Every participant will receive a laptop, a weekly stipend, and transportation along with other program perks.
Recovery Lab is made possible through a grant from the Robin Hood Foundation.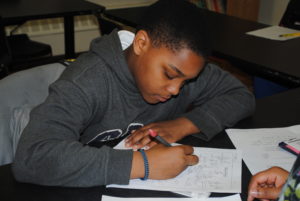 Children in our NYC shelters had a
96%
attendance rate at NYC DOE schools
We help
2,700
people with special needs develop skills to reach their full potential