 SCO's LGBTQ Program Honored with "Excellence in Practice" Award
September 24, 2018 / SCO News
SCO's LGBTQ program received the "Excellence in Practice" Award from New York City Administration for Children's Services in recognition of their superior practice and exceptional work with LGBTQ youth in foster care.
Deputy Commissioner Julie Farber and Associate Commissioner Neil Friedman presented the award at ACS' Quarterly Foster Care Directors Meeting on September 18th. Our LGBTQ team was one of five groups/individuals recognized for their work.
SCO offers the only residential programs in New York City for young people in care who identify as LGBTQ – lesbian, gay, bisexual, transgender and questioning. Our programs provide 24-hour care in a uniquely affirming and healing environment. We operate small family homes in Brooklyn and Queens that provide a safe, supportive and nurturing space for these youth as they strive for self-awareness and community, family and school acceptance
SCO's LGBTQ team often works with adolescents and young adults that have not only sexual orientation/gender identity related issues, but also complex histories of trauma, loss, multiple failed placements, or serious mental health issues. Although not always easy, the LGBTQ team has the skills, training and compassion required to ensure that even the most challenging youth are set on a path toward feeling safe, living a healthy life and achieving permanency.
Our staff recognizes that healing for each youth often starts with baby steps and that change does not take place overnight. They approach each person with respect as individuals and extend their time not only to the youth, but also to their families – including them in activities such as barbeques, holiday events, and other celebrations within the program.
Our team is also skilled at making positive adult connections with our young people and encouraging them to maintain those connections. Every staff member offers emotional support and is willing to go above and beyond to ensure that our youth have access to every support or service they need.
Congratulations to our dedicated SCO staff members who exemplify compassion, commitment, and professionalism.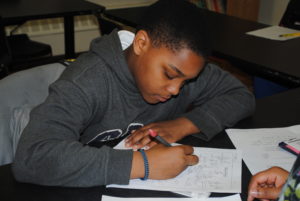 Children in our NYC shelters had a
96%
attendance rate at NYC DOE schools
93%
of adults with developmental disabilities living in SCO's IRAs (group homes) made meaningful connections by participating in community inclusion activities