 Congrats 2014 SCO Grads!
June 24, 2014 / Independent Youth News

Each year, SCO's alternative, residential and special education schools educate 1,100 youth. This month, we are proud to celebrate our June 2014 graduates, the academic achievements of all of our students, and the dedicated staff who help them succeed.
Congratulations to students and staff at our three transfer high schools (Bronx Arena High School, East Brooklyn Community High School and North Queens Community High School), Madonna Heights School, The Christopher School, Theresa Paplin School, Tyree Learning Center and Westbrook Preparatory School! Read highlights from each school below (or click the links above to jump to content).
Transfer High Schools
SCO Family of Services runs three transfer high schools, Bronx Arena High School (Soundview), East Brooklyn Community High School (Brownsville) and North Queens Community High School (Flushing) with the NYC Department of Education for students who have fallen behind in credits and are at risk of not graduating. Small schools (200 student maximum) and small class sizes allow for more personalized attention. Each student is assigned an Advocate Counselor who encourages, motivates and helps students work through social and emotional issues they may be dealing with outside of school.
Together, these schools have given hundreds of students a second chance. Last year, 110 students graduated with a Regents Diploma and as many as 158 will graduate this year.
Read the success stories of three exceptional 2014 transfer high school graduates:
Madonna Heights School
The youth in residence at the Madonna Heights Residential Treatment Facility and Group Residence  in Dix Hills, Long Island attend the Madonna Heights School, a fully accredited New York State Regents junior/senior high school located on the same campus that provides a therapeutic educational environment for adolescent girls who are struggling in their home, school or community.
The Madonna Heights School will have three high school graduates this year. Shanice, who will be graduating with her Regents Diploma, has been on the high honor roll, is giving the farewell address, and has received the State Education Department Scholarship for academic excellence.  She will be attending CUNY Kingsborough Community College in the fall. "She has been an excellent student and role model," said Assistant Executive Director Connie Cerrato.
In addition, three eighth grade students will be moving up, successfully completing all their state exams and requirements to attend high school next year.
The Christopher School
Three students graduated from The Christopher School (TCS) on June 20, 2014 and are moving into adult placements: Fatima P., Justice J., and Katherine (Katie) A-H. The Christopher School is a New York State-certified special education school that provides a therapeutic and residential setting for children with developmental disabilities, located in the Bronx.  Katie's brother, Lund, who graduated from TCS last year, was among those present at the ceremony to cheer on his sister and the other graduates.
All three graduates have successfully participated in the school's internship program for the last two years.  Katie interned at the Mt. Vernon Animal Shelter, where she assisted in grooming, caring for and interacting with cats.  Justice and Fatima interned at TJ Maxx, where they first began assisting store personnel with cleaning the toy section.  They gradually worked their way up to putting clothes on hangers and hanging them on their designated racks.  Most recently, they have been given the task of greeting customers as they enter the store.  All three students have been complimented on their ability to carry out directions from store personnel.
The students also celebrated the conclusion of their "Biggest Winner" contest, designed to encourage the students to adopt a healthier lifestyle. Fatima was named the Biggest Winner for making the greatest strides toward addressing her weight-related health concerns during the six month program, losing 18 pounds and gaining in self-confidence and awareness of healthy food choices. Fatima and second place winner, Justice, were honored for their tenacity in following through with twice-weekly fitness classes, instructed by Direct Support Professionals (DSP) Natasha Wright and Macdaney Prophete, and a weekly meditation class,  led by DSP Jonathan Lafontant.
Many of The Christopher School's students engage in severe maladaptive behaviors, which is often why they are placed in the school's care.  Although all of the current graduates have shown tremendous growth in the area of decreasing their number of behavioral incidents, there is one student who has made remarkable strides in this area. Justice first arrived at The Christopher School in March of 2011 after previously living in a residential school setting in Massachusetts – the only option then available before the Christopher School opened in 2011. Having him so far away from NYC was a serious challenge for his family, who did not have the time or resources to visit regularly. Since his arrival, Justice has improved in math and reading and has gone from requiring multiple therapeutic interventions a day to none at all in the last six months. He goes home to his family for all holidays, special occasions and ordinary days in between. "We are so proud of all of his accomplishments, but most elated that we were able to help facilitate more face to face interactions with his loved ones," said Principal Patricia Daniels.
Justice wrote this speech and presented it at the graduation ceremony to the family, friends, staff, and fellow students:
"Hello, my name is Justice.  Thank you to the nurses, managers – especially Diamond and James; my teacher, Atasha; Principal Patricia and my QIDP (Qualified Intellectual Disabilities Professional) Sonya for helping me learn how to be responsible and independent. I also want to thank all my direct care staff, especially Walker, Daneisha, Darryl, Ashley, Natasha and Mac for helping me to do the right thing. I am happy I am graduating and moving on to the new placement. I am going to miss you all, and have a wonderful time at The Christopher School."
Theresa Paplin School
The Theresa Paplin School, located on SCO's Ottilie campus on six acres in the heart of Queens, is a non-diploma bound, New York State certified special education school that serves adolescents and young adults who are dually diagnosed with a serious emotional disturbance as well as a developmental disability.
The Theresa Paplin School has three graduates this year: Christian, Christopher, and Christine.  Christopher and Christian have completed several hours of vocational study and are currently in the school's Work Study program where they work twice a week in the community.
In addition to their vocational studies, Christopher is an avid basketball player and took his team, the Wildcats, to the championships, where he was a major asset.
Christian has had a tremendous increase in his communication skills – both verbal and oral.  He has agreed to give a speech at this year's graduation and is working diligently to make it one to remember.
Tyree Learning Center
Tyree Learning Center, a New York State certified special education school designed to accommodate residents of the Robert J. McMahon Children's Center in Sea Cliff, Long Island, celebrated its Moving Up Day on June 12th.  Seventy-two students received awards recognizing their achievements in everything from math to music, including this year's five graduates. Principal Eileen DiLauro presided with pride and enthusiasm as she and Assistant Principal Kristin Pucilowski distributed awards.
For the first time, the New York State Skills and Achievement Commencement Credential, a commencement certificate similar in form to the diploma issued by the school district, was awarded to the five graduates:  Life F.; Mariah W.; Michelle R.; Can Z., who was also awarded a Socialization Award; and Matthew C., who also earned the Silver Presidential Award as well as the citizenship pin.
With the help of his teacher, Kathleen Nuzzi, Class 2 student Jonathan delivered a reading of his first-ever graduation poem, which moved some attendees to tears. The chorus, featuring students Ekuan, Tyequell, Tanya, Chris, Kendall and Quashawn, worked hard all year with music teacher Frank Hall on three numbers for the ceremony, including a crowd-pleasing rendition of Pharrell Williams' "Happy." Students Felicita and Treyvon also performed a piano duet.
The ceremony celebrated all the highlights and achievements of the past year.  One high point included a visit from Dr. Seuss's Cat in the Hat character, played by Ezra Zelkin, the school psychologist.
Two of the most successful endeavors undertaken this year were the use of Picture Exchange Communication System (PECS) and the Positive Behavioral Intervention and Support (PBIS) system. The staff worked very hard on utilizing PECS, an alternative communication system for non-verbal or limited verbal individuals, and the students' communication skills benefitted immensely. Proactive and positive supports provided by the ongoing implementation of the PBIS system have been a successful school-wide focus.
"It was another wonderful year at Tyree – I think the chorus song pick of "Happy" was a truly fitting selection," said School Secretary Sylvia Eastman.
Westbrook Preparatory School
Westbrook Preparatory School is the first residential New York State Regents junior/senior high school for students with Asperger syndrome, high functioning autism and related conditions.
Westbrook will have four graduates this year, all of whom have applied to college: Nassau Community College, Suffolk Community College and Adelphi. The school is proud to report that graduate Ryan Q. has been accepted into Adelphi University. Westbrook's graduation ceremony will be held at St. Brigid's on Thursday,  June 26th.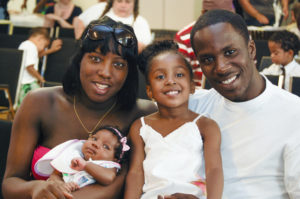 We provide
14,000
families and individuals with support services and community activities
85%
of residents in our group homes for adults with developmental disabilities attended Day Habilitation and receive vocational services