 Congrats 2016 SCO Grads!
July 25, 2016 / Independent Youth News
CONGRATULATIONS!!!
The past month was filled with graduations and moving up ceremonies throughout SCO as students received diplomas, awards and certificates in recognition of their amazing achievements!  Here are highlights from just a few of our programs:
A big CONGRATULATIONS!!! to the students at our Tyree Learning Center for youth with developmental disabilities for completing another successful year of learning and growing. This year they mastered 90% of their individual education plan goals and celebrated with a Moving Up Day ceremony.
Congratulations to the Bronx Arena High School Class of 2016! With hard work, determination and the support of a lot of people who've always believed in you, you begin the next chapter in your lives…as High School graduates! (P.S. Click here to read Chalkbeat's article explaining how SCO's Bronx Arena High School re-engages struggling students by ditching the traditional classroom.)
That's student Augustus below, singing his rendition of "I'll Be Missing You" at the recent graduation ceremony at The Christopher School, our residential school for youth with developmental disabilities in the Bronx. The high energy event included several musical performances, including one student's inspirational piano solo, "Mary Had a Little Lamb", which he learned through the Occupational Octaves Piano program and training from SCO staffer Natasha Wright. A special congratulations goes out to Richard for earning the Skills and Achievement Commencement Credential and to all of the students who received awards for their amazing accomplishments throughout the year!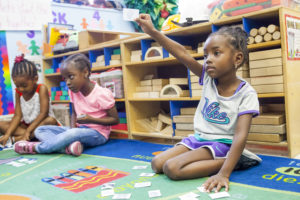 We help
1,500
children get ready for kindergarten
88%
of young adults in foster care (18+) are enrolled in school or working