 Congratulations, Graduates!
July 7, 2017 / Independent Youth News
June 30, 2017 – Glen Cove, NY – Graduations, Award Ceremonies, End-of-Year Performances…there was much to celebrate at SCO as the school year came to a close! Here are a few highlights:
Dreams became reality for the graduates of our three transfer high schools for over age, under-credited students: Bronx Arena High School, East Brooklyn Community High School and North Queens Community High School. The Class of 2017 received their Regents diplomas after overcoming obstacles and at times, self-doubt – persevering through hard work and determination.
Our Westbrook Preparatory School for teens with high functioning Autism celebrated the graduation of three youth who have become role models for their peers.
Theresa Paplin School in Queens and The Christopher School in the Bronx – residential schools for youth with developmental and behavioral challenges – recognized their students' accomplishments and bid a fond farewell to graduating youth who will be moving on to residential living for adults.
The Tyree Learning Center for children with developmental disabilities celebrated the progress of each student in a Moving Up ceremony that included musical selections by the TLC chorus and a first-ever Color Guard March to celebrate Flag Day.
Students at our five Early Childhood Education Centers: Shirley Chisholm, Morris Koppelman and FirstStepNYC (Brooklyn) and Jerome Hardeman and Corona UPK (Queens) proudly received Pre-K certificates at Moving On ceremonies as they look forward to beginning Kindergarten in the fall.
Our Center for Family Life and Family Dynamics after school programs held end-of-year events and performances that showcased their creative talents.
Our Independence Inns for runaway and homeless youth recognized the achievements of these determined young people at their Inn-Ovation Awards Ceremony.
A special shout out to Tanya, proud graduate of the Queens Transition Center in Elmhurst, a high school for youth with special needs. Tanya resides in one of our Extraordinary Needs community-based residences.
88%
of young adults in foster care (18+) are enrolled in school or working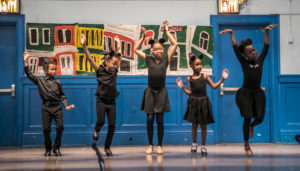 We inspire
5,400
children and teens through academic, after-school, summer and work readiness programs