 SCO Family of Services Expands Morning Star II: A Residential Recovery Program for Women with Young Children in Suffolk County
July 17, 2018 / SCO News
Dix Hills, NY – Today, SCO Family of Services, a leading provider of social services, health care and mental health services to vulnerable populations, opened an expansion to its successful Morning Star II residential recovery program that will allow mothers recovering from substance and opioid abuse to live with their young children while receiving treatment.  Morning Star II is located on SCO's Madonna Heights campus in Dix Hills, Long Island, and is the only residential recovery program on LI that enables mothers to cohabitate with their children.
"Morning Star II provides an array of therapeutic services that help women in recovery with young children to develop a substance-free, self-supporting lifestyle," said Keith Little, Executive Director of SCO. "We recognize that treatment is more successful when mother and child are living together, and are proud to facilitate mothers and their children in overcoming obstacles and healing together."
"With this expansion, we are ensuring that additional need will be met," OASAS Commissioner Arlene González-Sánchez said. "By offering a dedicated facility that allows women to have their children stay with them, it removes a major barrier that keeps many women from seeking treatment for addiction. I thank Governor Cuomo for recognizing this need, and taking steps to expand this important service."
Morning Star II allows mothers to live and bond with their preschool-aged children as they work towards recovery. Mothers are given parenting support and guidance as their children live in a safe and secure environment that fosters healthy attachments. When mothers are in treatment and related meetings, their children are cared for by trained staff or attend pre-school/kindergarten.
The Morning Star II expansion includes:
An increase in program capacity from 9 women and 11 children to 23 women and 25 children (up to age 5);
The implementation of "The Incredible Years," an evidenced-based baby and child program that allows for parenting enhancement instruction based on their child's age;
A dedicated toddler playroom;
A full-time recreation specialist to work with women and increase their socialization and life skills;
And a part-time vocational counselor to work on site with the residents.
SCO's original Morning Star facility opened in 1994, distinguishing itself as uniquely dedicated to serving the distinct needs of women in recovery from substance abuse. Morning Star II opened in 2007 to reunite mothers and their young children during the recovery process.  Both programs provide a safe environment for healing and offer 24-hour care to address women's physical, emotional and social needs. Perhaps most importantly, Morning Star helps women and their families transition successfully back into their communities ensuring long-term recovery.
"Women are more likely to be the primary caregiver in their family, which creates a large amount of pressure and responsibility," continued Keith Little. "They face challenges such as pregnancy, a higher poverty rate and are more likely to be survivors of trauma. It's imperative that their recovery is able to address these issues and help them cope with their past pains and future obstacles."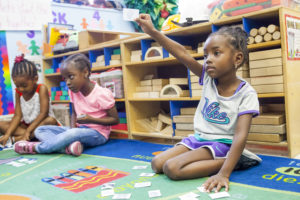 We help
1,500
children get ready for kindergarten
91%
of babies in our Nurse Family Partnership were current with immunizations at 24 months