 SCO Family of Services Raises $552,000 at Treiber Memorial Golf Outing
October 22, 2021 / SCO News
On October 14th, more than 220 golfers teed-up for SCO's Treiber Memorial Golf Outing. The event, which took place at two of the area's premier golf clubs, The Creek in Locust Valley and Nassau Country Club in Glen Cove, raised over $552,000. Funds raised at the annual event will help SCO provide vital services to more than 60,000 children, teens, families and adults with special needs each year across Long Island and New York City.
Golf Co-Chairs Craig Treiber and Stephen Tyree and the Golf Committee helped make this one of SCO's most successful golf events ever.
SCO extends its gratitude to all who came out in support of this wonderful event, including this year's sponsors: Amanda & Denis Moynihan (Halliday Financial), AON Risk Management, Barclay Damon, Beacon Therapy, Brian Edwards, Central Business Systems, Chem Rx/Pharmerica, Colonial Wire & Cable Co., Continuity Centers, Corporate Synergies Group, Cynthia & Lee Vance, DataSure Twenty Four, DB Collaborative, LLC, Demetrios Yatrakis, Donaldson Organization, Elaine & Andy Phillips, Enterprise Fleet Management, Ferrandino & Son, Inc., Gallagher Benefit Services, Inc., GAVS, Gramercy, Henricksen, Irwin Siegel Agency, Jackson Lewis P.C., James D'Addario, John & Joan D'Addario Foundation, Inc., John Genovese, Keith Little, Maspeth Federal Savings, Metro Environmental Services, Millin Associates, Mutual of America, Netsmart Technologies, People's United Bank, PKF, O'Connor Davies LLP, Riverhead Building Supply, Salerno Brokerage Corp., Spacesmith, Squash Exterminating, Strike Force Maintenance Corp., The Benjamin Companies, Thomas Farrell, TNT Scrap, LLC, Treiber Family, Vassalotti Associates Architects, LLP, Wheatley Agency, Inc.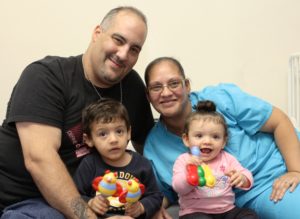 90%
of residents in our NYC shelters were successfully discharged to stable housing
85%
of residents in our group homes for adults with developmental disabilities attended Day Habilitation and receive vocational services