 SCO Flushing Family Residence Hosts Back to School Community Fair
September 11, 2018 / SCO News
Brooklyn, NY  Lots of surprises were in store for residents of SCO Family of Services' Flushing Family Residence at their 1st Annual Back to School Community Fair. Special guest New York Knicks center Enes Kanter hand delivered backpacks filled with school supplies to the children who currently live at the Brooklyn shelter.
Attendees were treated to great food and lots of activities including face painting, balloon animals, a clown appearance and more. Renowned DJ Boof lent his musical talents to keep the party energized.
The Back to School Community Fair was organized by Flushing Family Residence staff to give kids a positive experience to begin the school year. SCO teamed with the New York Knicks, Garden of Dreams Foundation and local organizations to create an exciting event that encouraged these young scholars to achieve academic excellence.
"We are thankful to Enes Kanter, DJ Boof, the Knicks, the Garden of Dreams Foundation and all of the community organizations who came together to give our kids a rousing send off as they begin the new school year," said SCO Executive Director Keith M. Little. "And it was all made possible by the efforts of our amazing staff."
Many community businesses and government agencies were present to offer their services while others donated food or school supplies. They included Aflac, Brooklyn Omega, Brooklyn Public Library, Bushwick Community Board 4, Bushwick Community Partnership, Child and Family Mental Health, Evergreen Dentistry, Foresters Financial, Inner Force Early Childhood Learning Center, Legal Shield, Little Cookies Daycare, Inc., Mayor's Office ThriveNYC – Department of Health and Mental Hygiene, MCU-Municipal Credit Union, NYC Commission on Human Rights, Office of Adult and Continuing Education, Public Health Advisor, Rise Boro.org (Homebase), Smile4U Photography, St John's Bread & Life, Super Foodtown of Bedford-Stuyvesant, Walgreens, Woodhull Children's Dentistry, Wyckoff Heights Medical Center, and 83rd Precinct.
SCO's Flushing Family Residence provides 98 families a safe, welcoming place to stay with the goal of helping them return to self-sufficiency. It offers a variety of on-site services including job readiness, drop-in child care, medical, mental health, and rehabilitation to help residents find permanent housing and prepare for independent living. Residents are also linked to appropriate neighborhood services that help in their efforts to secure and maintain permanent housing.
96%
of 12th graders in Family Foster Care graduated high school; 61% are enrolled in post-secondary education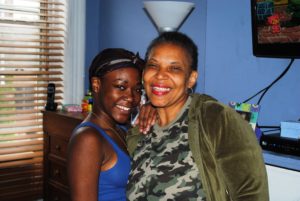 We help
1,100
children and young adults through foster care programs