 SCO Family of Services and Human Services Collaborative Pilot Artificial Intelligence to Support Children and Families in Foster Care
October 28, 2019 / SCO News
Social Impact AI Lab – New York Wins First Prize in the Robert Wood Johnson Social Determinants of Health Challenge
Glen Cove NY – SCO Family of Services is part of a team of agencies working to bring Artificial Intelligence to the social services world. The collaborative, called Social Impact AI Lab – New York, is a consortium of nonprofit social services agencies and technology providers, including SCO, the New York Foundling, Mercy First and the technology company Augmented Intelligence, working together to develop artificial solutions related to better support youth and families in child welfare.
The team is developing a digital solution to assess the Social Determinant of Health (SDoH): Social Connectedness, Mental Health Status, Education, Exposure to Violence, Abuse and Trauma, Economic Stability and Neighborhood & Environment. The tool consolidates SDoH data from disparate systems, using Natural Language Processing to identify SDoH data in case records and progress notes. The data is summarized on screen, providing a comprehensive review of SDoH in narrative, charts and graphs. This reduces the time spent combing through volumes of case records, giving case workers and foster families a better understanding of the child's health and well-being.
We are proud to announce that Social Impact AI Lab – New York was awarded first prize in the Robert Wood Johnson Social Determinants of Health Innovation Challenge. One hundred seventeen companies entered into the competition, and through various competitive stages over several months, the contestant pool was narrowed down to three. At the HIMSS Health 2.0 Conference in Santa Clara California in September, the work of the Social Impact AI Lab – New York collaborative was selected as the winner. The judges were particularly interested in the solution's ability to highlight changes in relationships among families served and help reduce Social Isolation.
Over the next eight months, Social Impact AI Lab will pilot this award-winning technology. The AI applications in development will support case preparation, case supervision, and program fidelity, with the end goal of improved outcomes. Learn more.
100%
of eligible students at Westbrook Preparatory School passed the Regents exam on the first try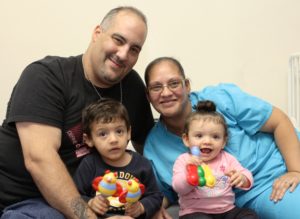 90%
of residents in our NYC shelters were successfully discharged to stable housing