 Adam Graves
March 1, 2018 /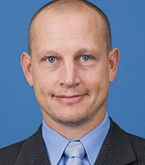 Ask hockey legend Adam Graves about SCO, and the retired New York Ranger doesn't talk about what he's done for the organization. He talks about how lucky he is to be a part of it.
His passion for helping families originated early on. Adam's parents took in 30 foster children. "I was fortunate to have foster brothers and sisters," he says. "It strengthened my family. So it was natural to be involved with an organization that does such wonderful work strengthening families."
In 1991 Adam dove right in, hosting holiday parties, committing his time and money to benefit children and families in SCO's Family Dynamics program in Bedford-Stuyvesant and Brownsville, Brooklyn.
His involvement deepened in 2006 when Madison Square Garden (MSG) founded the Garden of Dreams Foundation to "make dreams come true for kids facing obstacles." In the decade since, Garden of Dreams has provided life-enriching experiences to thousands of children in SCO programs: skating with the Rangers, going backstage at Radio City and attending countless games. But Garden of Dreams doesn't just open their doors to SCO. Players come to SCO too, passing out holiday gifts at SCO's Morris Koppelman Early Childhood Center; running a basketball clinic at the Ottilie Residential Treatment Facility and hosting a summer barbecue at the Flushing Family Residence for homeless families.
Although retired, Adam remains active in SCO events. "These programs strengthen families and enrich kids' lives. That's what SCO does on a day-to-day basis. SCO embodies what we're doing at the Garden of Dreams," says Graves. "Everyone in the MSG family – every employee – they'll say Garden of Dreams is the single most important thing we do."
88%
of young adults in foster care (18+) are enrolled in school or working
99%
of at-risk families throughout Brooklyn & Queens remained together and stable with family support services