 CFL's "Life Lines" Community Arts Project presents DREAMS
May 14, 2014 / Independent Youth News
"Life Lines" Community Arts Project was proud to present this year's original production, "DREAMS" during the week of May 12 – May 16, 2014, with six performances at Sunset Park High School. Our cast of 150+ participants includes students from Sunset Park High School, MS 821, MS 136, as well as from other Brooklyn middle and high schools.
 "DREAMS" provides a glimpse into the lives of 16 teenagers and parents as they follow their hearts and explore their innermost hopes, despite the obstacles standing in their way.
Founded in 1983 and celebrating its 31st Anniversary this year, "Life Lines" Community Arts Project is a free, nationally-recognized arts and leadership program in Sunset Park, Brooklyn serving 700 youth, ages 10-21.  Life Lines includes an after-school arts program and summer camp, traveling theatre/dance troupes, high school internships, original productions, and an in-school interdisciplinary partnership designed to promote student achievement.  Based at M.S. 136/821 and Sunset Park H.S.,  Life Lines is a component of Center for Family Life, a neighborhood-based social service program of SCO Family of Services.
Each spring, Life Lines participants and staff aim to create a production that brings to life the struggles and vitality of our diverse neighborhood.  Through character development, creative writing, community research, dance, music, and visual art, members share with staff their ideas, feelings, and experiences — these are integrated into original pieces for the production. There is no written script for the actors, only a skeletal outline of scenes.  The characters play out their situations in improvised dialogue that changes from performance to performance.
This year, our Dance Troupe worked in a variety of styles – challenging students to improve their skills in familiar styles such as salsa and street dance, while adding to their dance abilities with new styles such as tango, Bollywood, and modern. Participants were given creative license to help create portions of the dances and responsibility to rehearse set choreography in small groups. The songs in this year's show were created by the Repertory Company and Vocal Troupe in collaboration with the staff team.
91%
of babies in our Nurse Family Partnership were current with immunizations at 24 months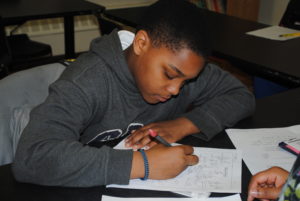 Children in our NYC shelters had a
96%
attendance rate at NYC DOE schools