 Real As Me Girls Empowerment Workshops Culminate with Pop-Up Shop for Young Entrepreneurs
July 28, 2021 / Independent Youth News
Family, friends and supporters of young women in SCO's Bethany program for young mothers in Foster Care were on hand for a Pop-Up Shop where the young ladies showcased products from their newly-formed businesses. The Pop-Up Shop was the culmination of SCO's Real As Me program, a series of bi-weekly workshops designed to teach these young ladies about entrepreneurship. Participants included middle school to high school girls from communities spanning across three boroughs (Brooklyn, Queen and Manhattan) in addition to the residents in our Bethany programs.
Based on Youth Communications' Real As Me curriculum, SCO's Real As Me workshops were designed to help build social and emotional development, learning skills, and encourage participants to make positive changes in their lives. In addition, participants were engaged in entrepreneurial workshops that provided a 360 view of entrepreneurship. Workshop topics included branding, marketing, social media, and the logistics of hosting a virtual Pop-Up shop. The SCO Real As Me program provided the products for the starter package for each of the young ladies' businesses.
The SCO Real As Me workshops culminated with a virtual Pop-Up shop facilitated by two entrepreneurs from our Bethany I program and seven entrepreneurs from the community, where they performed a variety of roles, including host and event entertainers. Each young lady spoke about their experience participating in the workshops, the process of creating and executing their business plan, and the benefits of being in the SCO Real As Me program.
The virtual Pop-Up shop provided participants the ability to market and sell their business products in spite of COVID-19 restrictions, and helped ensure that they had the full experience of developing and owning a business.
Based on the success of the program and the enthusiasm of its participants, SCO plans to offer similar Real As Me workshops to youth in other SCO programs in the future.
100%
of eligible students at Westbrook Preparatory School passed the Regents exam on the first try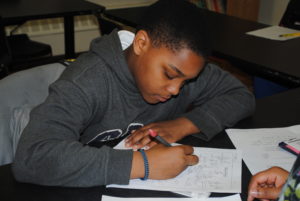 Children in our NYC shelters had a
96%
attendance rate at NYC DOE schools