 SCO Family of Services Celebrates Harry Potter, Hogwarts, and Habilitation at Program for Adults with Developmental Disabilities
August 23, 2019 / SCO News
Participants at SCO Family of Services' Day Hab Center unveil 8ft model inspired by J.K. Rowling's book series as part of a therapeutic, habilitation program.
Participants of SCO Family of Services' Day Habilitation Center unveiled their massive Harry Potter inspired model of Hogwarts Castle to friends, elected officials, and program supporters. The group started the project after reading the book series during an SCO sponsored book club. The breathtaking project includes representations of scenes from the books and a full-scale model of Hogwarts Castle and grounds. The full model measures 8 feet long and nearly 3 feet high.
"What started initially as a love and appreciation for the Harry Potter books has turned into a series of projects expressing everyone's creativity and talents," said Susan Moran, SCO Vice President of Intellectual and Developmental Disability Services.  "Participants honed their communication skills, fine motor skills, and problem-solving by participating in fun and engaging activities."
SCO's Day Habilitation program offers adults with developmental disabilities a place where they can socialize, join clubs, volunteer, and participate in community activities. This program is part of SCO's continuum of supports for individuals with intellectual and developmental disabilities on Long Island. Other programs include:
Day Hab Without Walls: for individuals who may not be able to function in a group setting, SCO provides community inclusion activities on a one-to-one basis. Three Hub Sites offer individuals with more intense behavioral needs with appropriate supports so that each participant is able to explore their community and form meaningful relationships.
Drop-In Lounge: located at the Day Hab Center on Tuesday and Thursday evenings, this program offers exciting opportunities in art, music, games and more for adults who can function with minimal supervision.
Community Habilitation: a program that supports children and adults who live at home by teaching skills to foster independence.
Family Care: a residential program for adults in which trained families open their homes to an adult with disabilities.
Individual Residential Alternatives (IRAs): small group residences and apartments that focus on promoting independence and preparing adults with developmental disabilities to become productive members of their communities.
Family Support Services and Individualized Support Service Grants that assist families to access and receive reimbursement for OPWDD services, and support independent living, respectively.
Site-Based Respite: SCO's newest program is designed to bridge the gap between when day programming ends and the individual's caregiver arrives home from work. The program is located at SCO's Brentwood offices on weekdays from 3:30 to 6:30 pm.
"SCO's programs for adults with developmental disabilities have expanded to include critical assistance to help Long Islanders and their families. Our Integrated Community Support programs offer a variety of services for people with intellectual or developmental disabilities that enhance their life skills and help them live more independent and fulfilling lives," said Keith Little, President and CEO of SCO Family of Services.
Day Hab participants unveiled their model and an accompanying slideshow video created by the residents and SCO's program staff. The video featured voice-overs and photographs created by the program's participants.
96%
of 12th graders in Family Foster Care graduated high school; 61% are enrolled in post-secondary education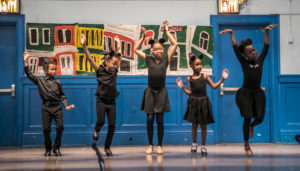 We inspire
5,400
children and teens through academic, after-school, summer and work readiness programs