 SCO Family of Services Continues to Strengthen Management Team to Further Improve Outcomes for New Yorkers in Need
June 11, 2018 / SCO News
Jennifer Outlaw Appointed Chief Program Officer; Stephen Mack Promoted to Chief Financial and Administrative Officer; Madeline Martinez Promoted to Chief of Staff
Glen Cove, NY  SCO Family of Services, a leading provider of essential human services for over 100 years, today announced the appointments of three senior executives to further strengthen and guide the agency in its mission-driven work to improve the lives and well-being of children, teens, and families, and individuals with special needs and developmental disabilities.  Jennifer Outlaw will join SCO's Executive Cabinet as Chief Program Officer (CPO). Stephen Mack broadens his position as Chief Financial Officer with the added responsibilities of Chief Administrative Officer.  Madeline Martinez has been promoted to the post of Chief of Staff.  All three positions report to Executive Director, Keith M. Little, who took the helm of the agency earlier this year.
"This is an exciting time at SCO, and we are fortunate to leverage the expertise and talent of industry leaders Jennifer Outlaw, Stephen Mack, and Madeline Martinez to buoy our efforts in helping to transform the lives of those we serve," remarked SCO Executive Director Keith Little.
Jennifer Outlaw: As Chief Program Officer, Ms. Outlaw will oversee a diverse portfolio of programs for children and families, providing a continuum of services that begins with expecting mothers and continues through young adulthood, with a triple focus on achieving improved outcomes in education, job security, and health and well-being.  She will be responsible for SCO's early childhood, foster care, and juvenile justice programs, as well as a suite of community-based child welfare programs that include after school academic enrichment programs for working families and specialized high schools for struggling students. Additionally, Ms. Outlaw will lead SCO's care coordination programs, providing a curated, person-centered approach to accessing and managing medical, behavioral health, and related service needs of SCO's clients.
A hands-on leader with over two decades of experience in healthcare, behavioral health and human services organizations, Ms. Outlaw joins SCO from HeartShare St. Vincent's Services where she most recently held the position of Senior Vice President of Integrated Health Services. She is a Licensed Clinical Social Worker, an Adjunct Instructor at Silberman School of Social Work, Hunter College, and a Board Certified Care Manager and Certified Professional Coach.  Ms. Outlaw received her undergraduate degree at Talladega College in Alabama and earned a Master of Social Work from New York University.
Stephen Mack:  Stephen Mack has held the rank of SCO's Chief Financial Officer for the past four years. With this promotion, his responsibilities have been expanded to include a broad range of administrative functions. In his new role as Chief Financial and Administrative Officer, Mr. Mack will continue to provide oversight of the agency's Accounting functions as well as provide leadership for Information Technology and Business Operations.
Mr. Mack joined SCO in 2010 as Fiscal Director and was promoted to Director of Finance in 2013 and Chief Financial Officer in 2014.  He is credited with streamlining SCO's financial processes that shortened the lifecycle of accounts receivables and monthly closings, improved reporting and analysis, and ultimately, improved the financial health of the agency and its $260 million operating budget.
Previously Mr. Mack worked as an Assistant Controller at the Nassau County chapter of NYSARC, Inc.  He has a Bachelor's Degree from SUNY Stony Brook and a Master of Business Administration from Hofstra University. He is a Certified Public Accountant, Certified Fraud Examiner, and a member of the American Institute of Certified Public Accountants, New York State Society of Certified Public Accountants, and the Association of Certified Fraud Examiners.
Madeline Martinez: Madeline Martinez has been promoted to the newly created position of Chief of Staff.  In this role, Ms. Martinez will oversee the activities of the Executive Office and assist the Executive Director with strategic priorities, manage Board and leadership team meetings, create and maintain cross-departmental relationships, and coordinate all appointments for the ED, COO, and CPO.
Celebrating her 20th year at SCO, Ms. Martinez has risen through the ranks in positions of increased responsibility as the agency has grown and evolved to meet the needs of its constituents. For the past seven years, she held the title of Special Assistant to the Executive Director. Ms. Martinez joined SCO in 1998, previously serving as Office Manager for the Bronx Family-Based Treatment Program, Assistant to the Quality Improvement Director, and Administrative Assistant for the Executive Director and Assistant Executive Director.
93%
of adults with developmental disabilities living in SCO's IRAs (group homes) made meaningful connections by participating in community inclusion activities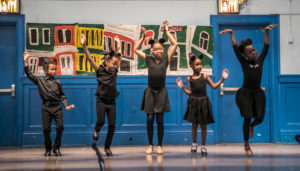 We inspire
5,400
children and teens through academic, after-school, summer and work readiness programs