 SCO Family of Services Expands Programs for Children and Families in Brownsville
September 1, 2017 / SCO News
Brooklyn, NY – SCO Family of Services, a leading provider of social services, announced the creation and expansion of a variety of programs and services to help children and families living in Brownsville, Brooklyn. SCO has partnered with community organizations, government agencies, and private foundations to launch new early childhood programs, parenting support programs, and community-wide initiatives to improve outcomes and help the community's children and families thrive.
The focus on Brownsville is part of SCO's strategic plan of deepening its roots in targeted communities – ensuring access to the full mix of its programs and services while building provider networks to meet the diverse needs of the community.
"We are proud of the important work we are doing in Brownsville and our ongoing commitment to the children, parents, and families in this community," said Douglas O'Dell, Executive Director of SCO Family of Services. "With the support of our community and government partners, we are bringing resources and opportunity where it is most needed."
"I commend SCO for implementing robust programming that benefits the children, adults, and families in Brownsville," remarked Senator Roxanne J. Persaud. "This initiative is not only a reflection of a shared vision but a deep commitment to working with the community to find solutions that address current issues. Our constituents deserve access to the best programs and opportunities so that they can continue to make positive advancements."
"I applaud SCO Family of Services for investing in Brownsville to launch a mixture of programs targeted to benefit children and parents alike," said Assembly Member Latrice Walker. "These programs are vital to the Brownsville community and help families thrive. I look forward to SCO deepening its roots in Brownsville by making community partnerships and ensuring that the community needs are being me."
The programs were unveiled at a special culmination event of "Brownsville Reads," a summertime early literacy program for children and their families.  Recent initiatives in Brownsville include:
SCO is partnering with Community Solutions and the Robin Hood Foundation to create United for Brownsville, a collective impact project to improve outcomes for the 3,500 zero to three-year-olds and their families who reside in the Brownsville community. The goal is to help these youngsters grow and achieve measurably improved results in social, emotional, well-being, and language developmental skills.
In partnership with the New York City Department of Youth and Community Development, SCO is launching a Fatherhood Initiative to promote higher parental involvement from noncustodial fathers. The goal of SCO's Fathers' Program is to improve fathers' relationships with their children and increase fathers' financial and material support – with particular focus on fathers who have been involved in the criminal justice system.
3-K for All Pilot Program
Continuing its commitment to expanding critical services in the Brownsville community, SCO has been selected to pilot the NYC Department of Education's 3-K for All programs in Brownsville.  Beginning in September, SCO's Morris Koppelman and Shirley Chisholm Early Childhood Education Centers will offer free, full-day, high-quality education to 105 three-year-olds. 3-K programs lay a critical foundation for children to grow, learn, and explore the world around them. Support from the Sirus Fund will enable SCO to offer extended day 3-K, providing child care from 3pm-6pm to meet the needs of working parents.
SCO is partnering with Community Solutions and Medgar Evers College to participate in the Jeremiah Program in Brownsville. The goal of the Jeremiah Program is to improve access to educational opportunities, secure affordable housing, and provide quality early education to single mothers and their young children.
'Brownsville Reads' Literacy Project
SCO has just concluded the Brownsville Reads Literacy Project, a 7-week parent-child class to promote family involvement in literacy by inspiring parents to read to their children.
With support from the Sirus Fund, families in Brownsville were able to rely on SCO to provide safe and enriching child care programs in their community throughout the summer. SCO's Summer Extension Program offered Pre-K classes at its Morris Koppelman Early Childhood Education Center, so the children could continue to learn and play together all summer long.
These new initiatives add to the breadth of existing SCO legacy programs in Brownsville that have been helping community members for over three decades.  Programs include East Brooklyn Transfer High School for under-credited students; Early Childhood Development programs offering home visiting and center-based programs; Residential Programs for young adults who are homeless, in foster care, or identify as LGBTQ; Family Counseling and Support Services to stabilize and strengthen families; and After School programs that offer academic enrichment, literacy and recreation, as well as team-building, conflict resolution and social learning activities. Government partners on these programs include the Administration for Children's Services, NYC Department of Education, Department of Health, Department of Youth and Community Development, and the Mayor's Children's Cabinet for the Early Years Collaborative.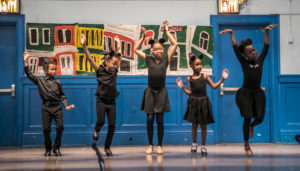 We inspire
5,400
children and teens through academic, after-school, summer and work readiness programs
93%
of adults with developmental disabilities living in SCO's IRAs (group homes) made meaningful connections by participating in community inclusion activities