 SCO Family of Services Held Inaugural Career Readiness Fair for Youth in Foster Care
October 21, 2022 / Independent Youth News
Event provided teens and young adults in SCO's foster care programs with professional clothing and the opportunity to engage with local businesses
QUEENS, NEW YORK —SCO Family of Services, a leading provider of essential human services throughout New York City and Long Island, held a career readiness day in partnership with the New York City Administration for Children's Services (ACS), for youth in foster care.
The event took place at SCO's Ottilie campus in Briarwood and was hosted by SCO's Fair Futures program, which prepares young adults in foster care for a successful transition to adulthood. Fair Futures provides individualized support and evidence-based programming to address the educational, emotional, and career development needs and ambitions of young people in care.   The career readiness event was the first of its kind for the program, in which 16 to 26-year-olds had the opportunity to select professional clothing from thousands of items. The clothing was donated by two television series, CBS' "Bull" and Hulu's "Wu-Tang: An American Saga," in partnership with Materials for the Arts and ACS.
The teens and young adults were also able to network with businesses and organizations about possible careers, including Amazon, the New York City Police Department, Queens Public Library, The HOPE Program, District 79 Alternative Schools & Programs, Bridges From School to Work, Helping U Home Care, NYC Workforce 1 Career Center, Opportunities for a Better Tomorrow, and Sigma Gamma Rho's Nu Beta Sigma chapter.
"SCO is committed to ensuring that the young people we serve are well prepared for the journey to adulthood," remarked President & CEO of SCO Family of Services Keith Little. "We know that with the right blend of supports and services we can change the trajectory for children in care. We are grateful to Materials for the Arts and our event partners for their continued support."
SCO provides access to a continuum of care that improves results for people facing significant life challenges, with a focus on education, family support, housing, youth justice services, support for people with developmental disabilities, and wellness.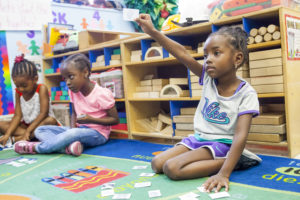 We help
1,500
children get ready for kindergarten
96%
of 12th graders in Family Foster Care graduated high school; 61% are enrolled in post-secondary education