 "Stronger Dads, Brighter Futures" Event Provides Resources and Support for Fathers
June 13, 2023 / SCO News
SCO's Fathers' Program held its first annual "Stronger Dads, Brighter Futures" event on May 23rd at the Billie Holiday Theater in Bedford-Stuyvesant, Brooklyn. Twenty-two fathers currently enrolled in the Fathers' Program were in attendance, many accompanied by their children. The event was an opportunity to present information, resources and support to dads seeking to create and maintain meaningful relationships with their children.
"Stronger Dads, Brighter Futures" included a panel discussion that provided information and resources specifically relating to the challenges typically experienced by dads. Panelists included NYC Office of Child Support, Early Intervention Services, Entrepreneurial Start-Up Resources and personal testimonies of some of the fathers in attendance.
(Hear dads in SCO's Fathers Program describe what being a dad means to them.)
The panel led to a robust Q&A session. Dads asked a variety of questions regarding early intervention, housing, start-up businesses, child support and more. The experts in attendance were a goldmine of information.
In addition to the panel discussion, a resource table had informational material about NYC Fair Fare, NYC Department of Mental Health & Hygiene, NYC Department of Youth and Community Development's Fatherhood event and Family Legal Care.
The event concluded with dinner and a certificate presentation to the dads who had successfully completed the parenting program within the Fathers' Program curriculum. Each dad received a certificate in recognition of their success. As an added bonus, program caseworker Kempe Hope took beautiful headshots of each graduate.
One of the most important aspects of "Stronger Dads, Brighter Futures" was to give dads an opportunity to interact with other dads in an informal setting, giving them the chance to network and share their personal stories and how they were able to come to successful resolutions.
The event was a great success. Fathers were very engaged during the panel discussion, with the staff and with each other. They were comforted knowing that they are not the only ones experiencing the challenges that they are facing and learning that visitation or full custody was possible.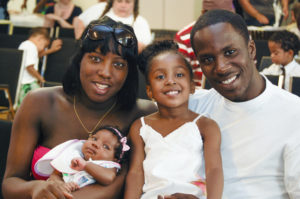 We provide
14,000
families and individuals with support services and community activities
We shelter
5,200
youth, adults and children