 Alayah's Story
August 23, 2022 /
Alayah was always curious. When she saw something, she wouldn't just take it at face value. She wanted to learn more. "How does that work?" "Why did that happen?" "What makes it do that?"
Her inquisitive nature was one of the traits that made her such a good student. She loves to learn and always has.
Growing up in Philadelphia, Alayah was at the top of her class. When she moved to New York, however, she risked having to repeat her junior year because some of her credits did not transfer.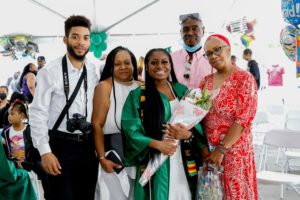 Determined to graduate on time with her class, Alayah transferred to SCO's East Brooklyn Community High School (EBCHS.) East Brooklyn is a transfer high school in partnership with SCO Family of Services and the New York City Department of Education. Students there can earn credits at an accelerated rate, so Alayah was able to earn her remaining junior credits and all of her senior credits in the same academic year.
Upon her arrival at EBCHS, Alayah had one goal: Go to college. She wanted to be the first in her family to go to college and she was determined to make it happen.
I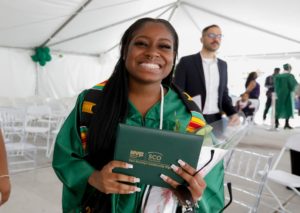 n the Spring of her senior year, Alayah's EBCHS Advocate Counselor told her about a college scholarship available through Garden of Dreams, the Inspire Scholarship, and it's substantial – $40,000 ($10,000 per year for four years) and a brand-new MacBook.
The Garden of Dreams Foundation is a non-profit organization that works with MSG Entertainment and MSG Sports to bring life-changing opportunities to young people in need. SCO Family of Services is one of their partner organizations.
When Alayah learned about the Garden of Dreams Inspire Scholarship, she jumped at the opportunity to apply. With a little help from her English teacher and a letter of recommendation from the EBCHS School Director, Alayah submitted her application.
Immersed in finishing out her senior year and applying to a myriad of colleges, Alayah received an email that she received a Garden of Dreams Inspire Scholarship! It was, in her words, an "Oh, my God! What a relief!" moment.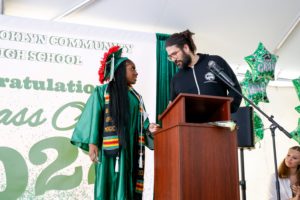 It really should come as no surprise. Her insatiable desire for knowledge made her the perfect candidate.
Alayah's drive to go to college paid off. She was accepted into 16 colleges. Sixteen! In the end, Alayah chose North Carolina A&T University. It's an excellent school and the people she talked to had great things to say about it.
Alayah plans to Major in Biology on the Pre-Med track, with a Minor in Psychology. She'd love to get into a top medical school and become a surgeon one day. She grew up helping to take care of people. It's in her blood.
Alayah has set her goals high, but with her talent, drive and determination, she's destined to achieve them all.
Congratulations, Alayah!
95%
of women in our residential recovery program remained substance free
100%
of eligible residents at our Dix Hills Residential Treatment Facility participated in work, internship, or volunteer activities