 Shalini's Story
March 13, 2023 /
Shalini is a young woman who knows exactly where she's headed. A chance experience tutoring young children as a high school student while in SCO's foster care program ignited her passion for teaching, and now guides her every step.
With a razor-sharp focus on achieving her goals, Shalini has mapped out her immediate and long-term plans. First, she'll graduate from college with a bachelor's degree in early education. And then it's off to graduate school to earn her master's in teaching. A few years ago, these might have been considered lofty goals, but with the right supports in place, Shalini is well on her way.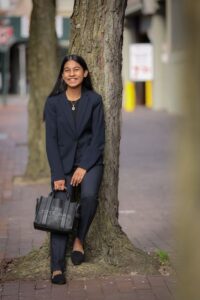 Shalini was placed in SCO's Foster Care program after the death of her father 9 years ago. While safe and well-cared for by her foster family, she was angry and worried about the future. "I needed a team to support me and advise me, and give me the right tools to succeed," she reflects.
And a team is exactly what she received. SCO provided the resources, services, and guidance she needed to become her best self. During high school, a team of education and mental health specialists helped Shalini overcome obstacles and helped her to realize she "did not have to transition to adulthood alone." She participated in mentoring programs, made new connections, and built relationships with other young adults in care. As her confidence grew, Shalini began tutoring children from a nearby elementary school as part of her program with SCO. That was the "aha" moment that shaped her future. She fell in love with teaching!
When it was time for college, SCO's staff helped Shalini complete applications, navigate financial aid, and apply to the Dorm Project, which enables her to live in a college dorm all year round. Her SCO coach remains a constant presence and is even helping Shalini work towards getting a driver's license.
Today, Shalini is a rising junior at Hunter College, and we have no doubt she will achieve all she sets out to accomplish.
88%
of young adults in foster care (18+) are enrolled in school or working
100%
of eligible residents at our Dix Hills Residential Treatment Facility participated in work, internship, or volunteer activities