 Fun in the Sun at SCO — Summer 2014
July 14, 2014 / Independent Youth News
Summer is in full swing across SCO. Check out highlights from a few of our programs below.
Children at the Jerome Hardeman Early Childhood Education Center in East Elmhurst, Queens ham it up for the camera while playing on the center's rooftop playground.
Students at the Tyree Learning Center in Sea Cliff, NY are making the most of the summer season by planting, picking and eating fresh fruits and veggies, and by playing in the pool.
Field Day at The Christopher School in the Bronx was the place to be on July 8th, as staff and residents cooled off with a water fight, played games, enjoyed face painting, ate ice-cream, listened to music and conquered the water slide! Special thanks to staffer Perry Cyprus for sponsoring a visit from Mr. Softee!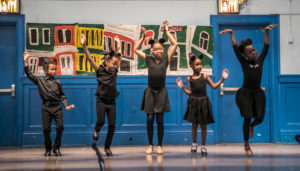 We inspire
5,400
children and teens through academic, after-school, summer and work readiness programs
88%
of young adults in foster care (18+) are enrolled in school or working