 SCO Celebrates National Volunteer Week 2015!
April 13, 2015 / SCO News
SCO Family of Services is celebrating National Volunteer Week (April 12-18, 2015) by recognizing our outstanding volunteers.  SCO provides vital human services to more than 60,000 vulnerable New Yorkers every year, thanks in part to the support of more than 950 dedicated volunteers, who collectively volunteered more than 3,443 hours over the last year. In honor of National Volunteer Week, SCO is taking the opportunity to express the gratitude we feel toward every one of our supporters all year long, as well as to give special recognition to several particularly dedicated individuals and corporate volunteers:
Gap, Inc.
SCO's ongoing relationship with Gap, Inc. has yielded friendships, amazing events and unparalleled support for our life-changing work. Gap's volunteers have consistently brought behind-the-scenes organizational support to our major events – helping to sell raffle tickets, directing models down the runway, preparing baskets for silent auction, and helping to keep the events running smoothly. During the past year, Banana Republic Factory Store volunteers have mentored youth in our Young Adult Internship Program (YAIP) during Work Readiness and Interview Skills workshops in Brooklyn. In 2014, 125 Gap, Inc. staffers logged 538 volunteer hours supporting SCO. The Gap volunteers are professional, generous and enthusiastic, and always go above and beyond!
Credit Suisse
This year, Credit Suisse sponsored a holiday party at SCO/Family Dynamics' Beacon Center and sent along an enthusiastic group of volunteers, headed up by SCO Board Member Michele Cubic, Credit Suisse Managing Director. The Credit Suisse crew put on a wonderful event for the children and their families, including Hoop Shot games, decorating stockings, face-painting and a spectacular photo booth! SCO has had a relationship with Credit Suisse for almost a decade, and with the help of Michele, we are looking forward to an engaging and fulfilling partnership for many years to come!
Janice Seaman & Friends
SCO Family of Services is fortunate to have many dedicated individuals who volunteer their time to support SCO in a variety of ways. One particular group, led by Janice Seaman of Long Island, has shown extraordinary commitment to creating special moments in the lives of the children at our Robert J. McMahon Children's Center, a residential facility for children with development disabilities in Sea Cliff. The group's generous donations of time, energy and contributions to the "Fun Fund" – set up by Janice to finance the group's events – have brought many joyful and meaningful events to the RJMCC campus, including Thanksgiving dinners and a summer waterslide party.  Janice coordinates with RJMCC Recreational Director Shelley Feldman, and works tirelessly to brighten the lives of our children.
Marcia Lucas
Marcia Lucas has never really left SCO! Marcia was employed at SCO for 28 years and retired about two years ago from her position as Director of Community Programs at Madonna Heights, including Morningstar I & II and the Suffolk County Shelter. Almost immediately after retiring, she began volunteering at our Family Service Clinic, helping with paperwork for clients. Since then, she has helped with all manner of tasks – from newsletter mailings to donation distribution – that lighten the load of our dedicated Program Support staff. Marcia's help is particularly valuable during the holidays, when our Program Support Center is busy requesting, accepting, sorting, packing, and sending holiday gifts for the 60,000 people in our care.
Garden of Dreams
The Garden of Dreams Foundation has been a valued partner of SCO since its inception in 2006. They routinely partner with SCO to help us offer the highest-quality programs, events and activities for the children and families we serve – including tickets to sporting and cultural events, visits from athletes, and adopt-a-family holiday gift-giving. This year, students from SCO's Transfer high schools had the opportunity to participate in Dream Big, Speak Out – a new program created by the New York Knicks, Garden of Dreams Foundation and Urban Word NYC – designed to celebrate the African American experience. The 8-week program kicked off with a trip to Washington, DC, and culminated in an exciting spoken-word poetry showcase at Nuyorican Poet's Café in Manhattan. Most recently, GDF launched its Inspire Scholarship Program, selecting a student at our Westbrook Preparatory School to be among the inaugural GDF Inspire Scholars.
How You Can Help
There are many ways you can support our work and have a positive impact on the lives of the children, adults, families and communities we serve. Some examples:
You or your organization could…
Sponsor a program or an event
Donate new products or gift cards
Run a donation drive
Volunteer your skills to mentor our adolescents and young adults
Provide internship opportunities
Participate in a one-day volunteer project
95%
of women in our residential recovery program remained substance free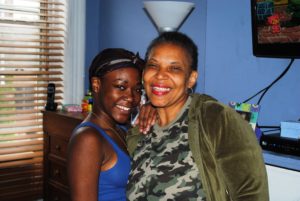 We help
1,100
children and young adults through foster care programs