 Close to Home Youth Earn College Credits
July 12, 2022 / Independent Youth News
Youth from our Queens Close to Home program recently attended CUNY Freedom Prep, an English Literacy program designed for court-involved young people ages 16-24. The 6-week initiative was sponsored by CUNY's College Now Program at LaGuardia College.
Youth in SCO's Close to Home program attend Belmont Passages Academy. Those who participated in CUNY Freedom Prep earned extra ELA credits at Belmont in addition to receiving 3 college credits for this free, college-level course.
We're proud to say that on May 12th, five youth from our Close to Home program completed the course and are now considered CUNY College students! Congratulations!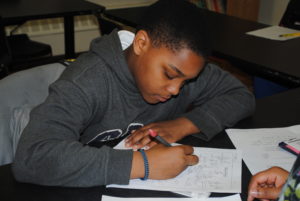 Children in our NYC shelters had a
96%
attendance rate at NYC DOE schools
We help
2,700
people with special needs develop skills to reach their full potential