 Juneteenth: A Celebration of Resilience
June 29, 2023 / SCO News
Led by CARE, SCO's Committee Advocating Racial Equity, SCO staff participated in different Juneteenth activities throughout the month of June honoring the resilience of the Black community, SCO's employees, and the people and communities we serve.
CARE Book Club Recommendation
The CARE Book Club recommendation was a way to encourage participants to host a book club with their teams. A "tool kit" included a book giveaway and a resource guide to foster the discussion. It resulted in nearly 200 orders placed for the CARE Book Club recommendation "Caste: The Origins of our Discontents" by Isabel Wilkerson.
Juneteenth Bingo
Colleagues formed teams and worked together to complete a Bingo card filled with a variety of activities – like reading a book by a black author, visiting a black-owned business, learning about a significant black historical figure, and more – promoting team building and cultural awareness.
Congratulations to the SCO Benefits team: Carla Seidel, Danielle Motto, Juliette Dieujuste, and Marianne Flowers, on winning Juneteenth Bingo! With their Bingo card submission, they wrote: "Thank you for this unique way to learn about a topic many of us knew so little about. We all took away new knowledge after doing this assignment! As we write this email, the convo is continuing."
Juneteenth CARE Talk with Dr. Bertice Berry
On June 16th, SCO welcomed Dr. Bertice Berry, PhD, sociologist, best-selling author and award-winning lecturer, for a Zoom CARE Talk: "Rising Above: Embracing Resilience and Rediscovering Purpose."
Dr. Berry gave her thought-provoking perspective, sharing her personal story and reflecting on how our everyday actions impact ourselves and our work. Attendees were wowed by her insight and energy. "It's the best talk I've attended in years," one staff member shared.
Four lucky attendees, Sandera Bethea, Tara Drennen, Lori Hannibal, and Trecia Doyle, won a random drawing to receive a copy of Dr. Berry's new book, "Blackworld," and Tricia Hersey's book "Rest Is Resistance: A Manifesto" (which Dr. Berry recommended during her talk.)
Kudos to CARE for fusing a celebration of the past with creative ways to engage in diversity, equity, inclusion and belonging in the present!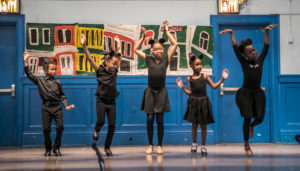 We inspire
5,400
children and teens through academic, after-school, summer and work readiness programs
99%
of at-risk families throughout Brooklyn & Queens remained together and stable with family support services