 H. Craig Treiber
April 6, 2018 /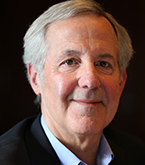 Craig Treiber says supporting SCO is in his DNA. That's because the Treiber ties to the organization go back three generations.
Craig's grandfather, John, was actively involved at Queens' Ottilie Orphan Asylum, which would merge with the St. Christopher Home to become SCO. Craig's father, Howard, was Board President. Craig's mother, Hope, deepened the family's tradition of philanthropy.
Craig joined the board in 1999. He's not the type to talk about his generosity, but Craig's quiet commitment is unshakeable. Each year, he and his wife Lora are among SCO's top donors and volunteers.
"My family has been very blessed to have a successful business over a number of generations," says Craig, "and giving back was essential in our upbringing. If you're fortunate enough to have your health and acquire some financial means, it's important to give back. There's tremendous need, and my family is honored to support organizations that make a real difference."
The Treibers' support has long underwritten SCO's efforts, but Craig commits his time too – overseeing Risk Management, serving as Vice Chair and Executive O_cer of the Board. "We have a family foundation, and our giving goes well beyond SCO, but there's a difference. Writing a check is one thing. but to invest your energy, to have skin in the game is what is important. The diversity and impact of the services provided make me proud to support the organization."
We shelter
5,200
youth, adults and children
We help
2,700
people with special needs develop skills to reach their full potential